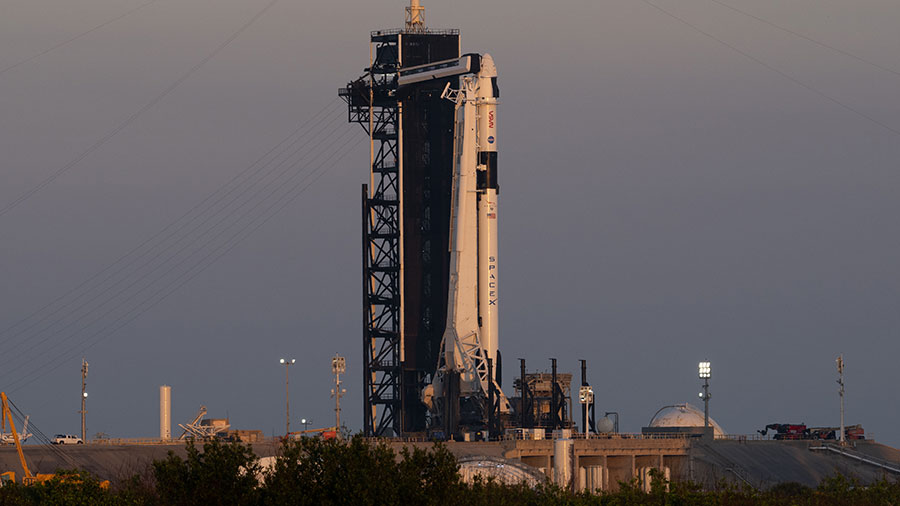 One spacecraft is soaring toward the International Space Station as another spaceship targets its launch to the orbiting lab early next week. Meanwhile, the seven Expedition 68 members living in space are gearing up for the new spaceship arrivals and preparing for the departure of four crewmates, all while continuing a host of microgravity research.
An unoccupied Soyuz MS-23 crew ship from Roscosmos is orbiting Earth today following its launch from the Baikonur Cosmodrome in Kazakhstan at 7:24 p.m. EST on Thursday. It will approach the space station and automatically dock to the Poisk module at 8:01 p.m. on Saturday, Station Commander Sergey Prokopyev and Flight Engineer Dmitri Petelin, both cosmonauts from Roscosmos, will be on-duty during the crew's sleep shift monitoring the Soyuz MS-23's arrival.
The MS-23 launched passengerless and is carrying crew provisions to replenish the inhabitants aboard the orbital outpost. However, the MS-23 will return Prokopyev, Petelin, and NASA astronaut Frank Rubio back to Earth later this year. The Soyuz MS-22 crew ship that carried the trio to the space station on Sept. 21, 2022, experienced a coolant leak on Dec. 14, and will depart for Earth uncrewed in late March.
Back on Earth, the Falcon 9 rocket from SpaceX with the Crew Dragon Endeavour atop counts down to its lift off at 1:45 a.m. EST on Monday from Kennedy Space Center in Florida. Endeavour will be led by SpaceX Crew-6 Commander Stephen Bowen and piloted by Warren "Woody" Hoburg, both astronauts from NASA. The NASA duo will be flanked by Mission Specialists Sultan Alneyadi from UAE (United Arab Emirates) and Andrey Fedyaev from Roscosmos. Bowen, a veteran of three previous spaceflights, will lead the trio of first-time space flyers to an automated docking on the Harmony module's space-facing port at 2:38 a.m. on Tuesday.
In the meantime, four space station crew members are getting ready to end their mission several days after their SpaceX Crew-6 replacements arrive. NASA Flight Engineers Nicole Mann and Josh Cassada joined astronaut Koichi Wakata of JAXA (Japan Aerospace Exploration Agency) and cosmonaut Anna Kikina of Roscosmos to check out their Crew Dragon pressure suits on Friday. The quartet lifted off toward the station aboard the Crew Dragon Endurance spacecraft on Oct. 5 as the Crew-5 mission and docked on Oct. 6.
A variety of scientific and technical activities continued onboard the station as the crew explored space biology and robotics on Friday. Cassada wore a headset filled with sensors recording his brain activity for the Cerebral Autoregulation study. Kikina and Petelin tested the lower body negative pressure suit that offsets microgravity-caused head and eye pressure. Rubio practiced on a computer the skills necessary to operate the Canadarm2 robotic arm.