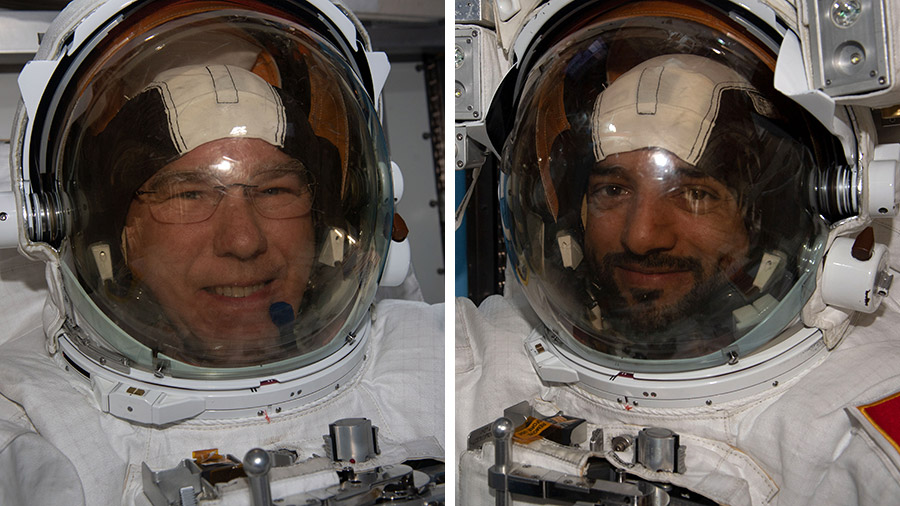 As spacewalk preparations are under way aboard the International Space Station, the Expedition 69 crew is continuing its advanced microgravity research while maintaining orbital lab systems.
Two astronauts are readying their tools today for a six-and-a-half hour spacewalk planned to start at 9:15 a.m. EDT on Friday. NASA Flight Engineer Stephen Bowen will be going on his eighth career spacewalk with first-time spacewalker and astronaut Sultan Alneyadi from UAE (United Arab Emirates). The duo will work in the vacuum of space on the starboard side of the station's truss structure routing power cables and retrieving a communications antenna. The cable work is being done in advance of the installation of the station's fourth roll-out solar array. The iROSA, or International Space Station Roll-Out Solar Array, is due to be delivered on the next SpaceX Dragon cargo mission.
After the morning tool work, Bowen and Alneyadi had a standard pre-spacewalk health checkup measuring each other's heart rate, blood pressure, and temperature. The pair then split up for science work in the afternoon, as Bowen first swapped samples inside a fluorescence microscope then reconfigured a biology research incubator that generates artificial gravity. Alneyadi collected air samples from the Destiny and Columbus laboratory modules for analysis before cleaning the Veggie space botany facility.
NASA Flight Engineers Frank Rubio and Woody Hoburg also had their hands full on Wednesday conducting science operations and ensuring the upkeep of the orbital outpost. Rubio started his day servicing protein crystal samples for a biochemistry study then tested his proficiency as an operator of the Canadarm2 robotic arm on a computer. Hoburg serviced orbital plumbing and oxygen generator components throughout the day and finally installed a new radiation-sensing telescope in the Tranquility module.
In the Roscosmos side of the space station, the crew's three cosmonauts were back to work following an off-duty day on Tuesday. Commander Sergey Prokopyev and Flight Engineer Dmitri Petelin began Wednesday training for an unlikely emergency scenario of evacuating the station inside the Soyuz MS-23 crew ship. Prokopyev then studied futuristic planetary piloting techniques while Petelin worked on the Nauka science module's ventilation system. Flight Engineer Andrey Fedyaev spent his day repairing plumbing gear and replacing dust filters.
---
Learn more about station activities by following the space station blog, @space_station and @ISS_Research on Twitter, as well as the ISS Facebook and ISS Instagram accounts.
Get weekly video highlights at: https://roundupreads.jsc.nasa.gov/videoupdate/
Get the latest from NASA delivered every week. Subscribe here: www.nasa.gov/subscribe