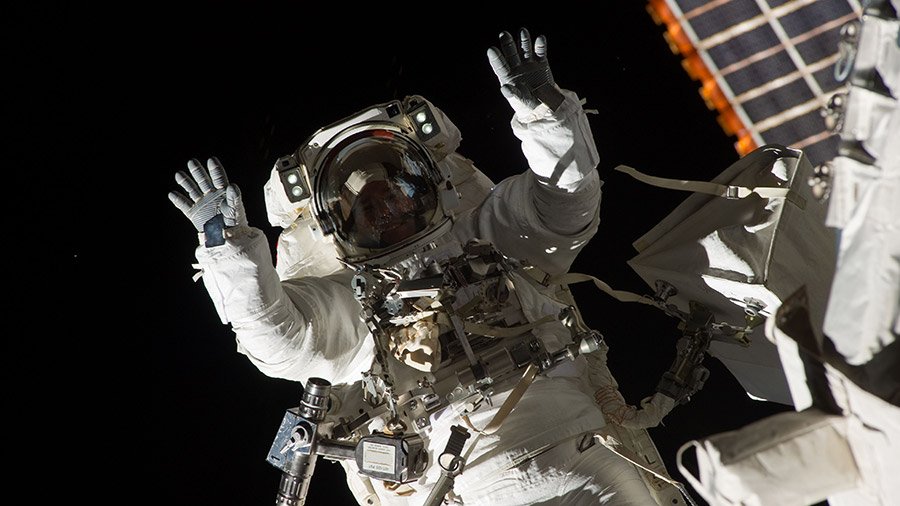 The Expedition 69 crew is ready for a spacewalk set to begin on Friday to upgrade the International Space Station's power generation system. In the meantime, fitness evaluations and robotic tests rounded out the schedule aboard the orbital outpost on Thursday.
Flight Engineers Stephen Bowen of NASA and Sultan Alneyadi of UAE (United Arab Emirates) are finalizing their tool collections and Quest airlock configurations the day before their six-and-a-half hour spacewalk begins. They staged their Extravehicular Mobility Units (EMUs), or spacesuits, inside Quest and finished studying the procedures they will use to route power cables and retrieve an antenna on the station's starboard truss structure. The external hardware work will ready the space station for its next set of roll-out solar arrays due to be installed after their delivery on the next SpaceX Dragon cargo mission.
Bowen and Alneyadi will set their EMUs to battery power at around 9:15 am. EDT on Friday signifying the beginning of their spacewalk. This will be Bowen's eighth career spacewalk, Alneyadi's first, and the fourth of 2023. NASA TV, on the agency's app and website, will begin its live spacewalk coverage 7:45 a.m.
NASA Flight Engineers Frank Rubio and Woody Hoburg participated in today's final spacewalk preparations joining the spacewalkers for a procedures review, tool checks, and a conference with engineers on the ground. Rubio and Hoburg, on Friday, will assist the spacewalkers in and out of their spacesuits, maneuver the Canadarm2 robotic arm, and monitor the activities.
Two cosmonauts took turns pedaling on an exercise cycle for a fitness evaluation on Thursday morning. Commander Sergey Prokopyev and Flight Engineer Dmitri Petelin attached sensors to themselves measuring their heart activity and blood pressure then exercised for about an hour. The fitness study ensures the pair is in good shape ahead of a spacewalk planned to start at 4:05 p.m. EDT on Wednesday, May 3. Prokopyev and Petelin will exit the station in their Orlan spacesuits and spend about six hours moving an experiment airlock from the Rassvet module to the Nauka science module.
Roscosmos Flight Engineer Andrey Fedyaev spent his day inside the Nauka module testing operations with the European robotic arm (ERA). He practiced grappling the experiment airlock and maneuvering techniques with the ERA, the same maneuvers he will use to assist the Roscosmos spacewalkers during next week's logistics spacewalk.
---
Learn more about station activities by following the space station blog, @space_station and @ISS_Research on Twitter, as well as the ISS Facebook and ISS Instagram accounts.
Get weekly video highlights at: https://roundupreads.jsc.nasa.gov/videoupdate/
Get the latest from NASA delivered every week. Subscribe here: www.nasa.gov/subscribe