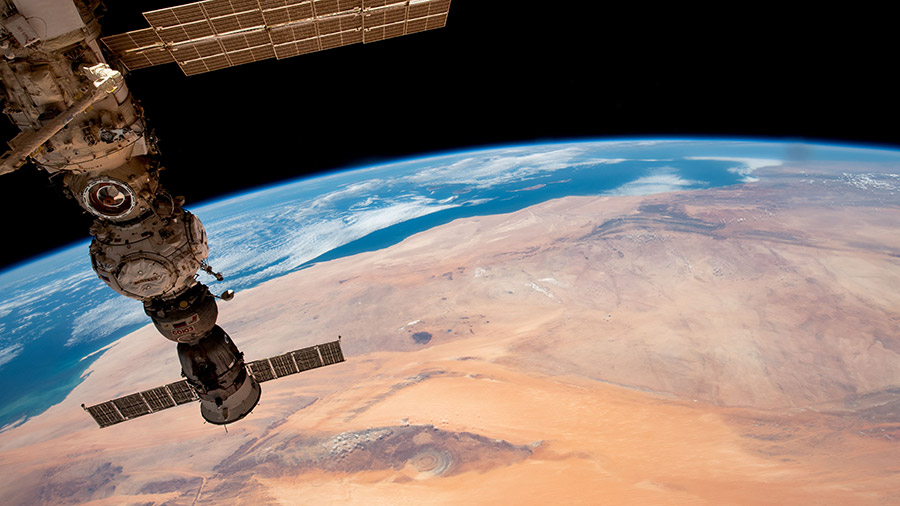 Two cosmonauts are getting ready to exit the International Space Station on Wednesday to conduct the year's fifth spacewalk. The rest of the Expedition 69 crew spent Tuesday preparing to relocate the SpaceX Crew Dragon spaceship, setting up robotic free-flyers, and working on life support maintenance.
Commander Sergey Prokopyev and Flight Engineer Dmitri Petelin of Roscosmos are finalizing their procedure reviews and completing their Orlan spacesuit configurations today ahead of a spacewalk planned to start at 4:05 p.m. EDT on Wednesday. The duo will spend about six-and-a-half hours removing an experiment airlock from the Rassvet module then installing it on the Nauka science module. Flight Engineer Andrey Fedyaev will be inside the station assisting the spacewalkers and maneuvering the European robotic arm with the airlock in its grip.
Coming up on Saturday, four crew members will enter the SpaceX Crew Dragon Endeavour and move the spaceship to a new station port. NASA Flight Engineers Stephen Bowen and Woody Hoburg will command and pilot, respectively, Endeavour while flanked by Flight Engineers Sultan Alneyadi of UAE (United Arab Emirates) and Fedyaev of Roscosmos. The quartet will undock from the Harmony module's space-facing port at 7:10 a.m. then redock to Harmony's forward port at 7:53 a.m.
The quartet joined each other on Tuesday and checked the pressure suits they will wear during their short ride inside Dragon. The foursome also reviewed their relocation procedures, checked vehicle hatches, and configured the spacecraft cabin.
NASA TV is covering both the spacewalk and the Dragon relocation activities live on the agency's app and website. Spacewalk coverage begins at 2:30 p.m. on Wednesday and the Dragon relocation broadcast begins at 6 a.m. on Saturday.
Robotics and bioprinting were the top research priorities on Tuesday in the midst of the spacewalk and Dragon preparations. Hoburg turned on an Astrobee robotic free-flyer in the Kibo laboratory module during the morning and tested its operations in conjunction with mission controllers. The robotics work is being done to demonstrate ways to control the free-flyers using student-written code. NASA Flight Engineer Frank Rubio worked on the BioFabrication Facility (BFF) replacing and installing components. The BFF is designed to print organ-like tissues in microgravity and learn how to manufacture whole, fully-functioning human organs in space.
Bowen and Sultan partnered together during the morning inside the Destiny laboratory module working on life support gear. The duo took turns collecting water samples and replacing components from inside Destiny's oxygen generation system.
---
Learn more about station activities by following the space station blog, @space_station and @ISS_Research on Twitter, as well as the ISS Facebook and ISS Instagram accounts.
Get weekly video highlights at: https://roundupreads.jsc.nasa.gov/videoupdate/
Get the latest from NASA delivered every week. Subscribe here: www.nasa.gov/subscribe