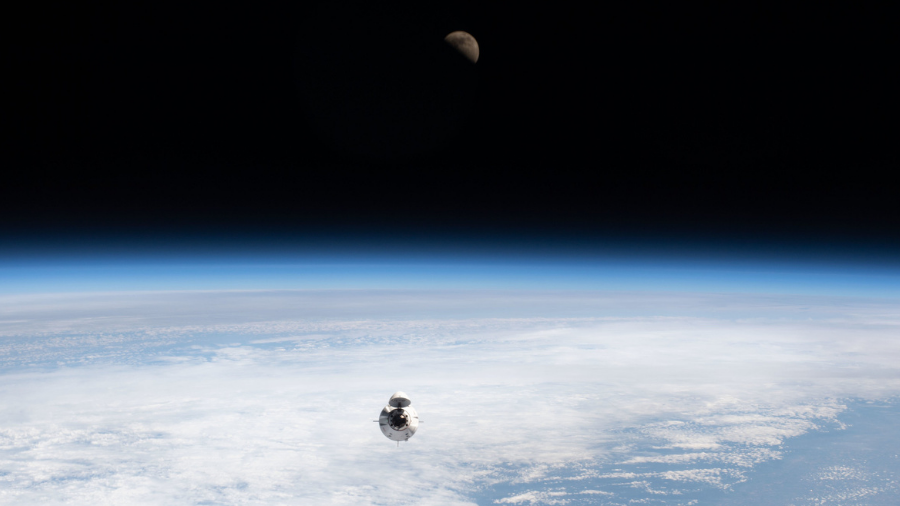 The Expedition 69 crew members continue preparing the International Space Station for the arrival four private astronauts early next week. Meanwhile, the orbital residents also stayed focused on their life science activities and lab maintenance tasks.
The SpaceX Falcon 9 rocket, with the Dragon Freedom crew ship attached, rolled out to its launch pad at the Kennedy Space Center in Florida on Thursday morning. It is scheduled to launch four Axiom Mission-2 (Ax-2) astronauts at 5:37 p.m. EDT on Sunday to the orbital outpost. Former NASA astronaut and Ax-2 Commander Peggy Whitson will lead first-time space flyers Pilot John Shoffner and Mission Specialists Ali Alqarni and Rayyanah Barnawi aboard Dragon during its space flight. Dragon will automatically approach and dock to the space-facing port on the Harmony module at 9:24 a.m. on Monday.
Two station flight engineers spent a portion of Thursday configuring station equipment to support the four Ax-2 crew members during their stay aboard orbital lab. NASA astronaut Stephen Bowen gathered and staged emergency hardware on midday Thursday to accommodate the additional astronauts and their Dragon vehicle. UAE (United Arab Emirates) astronaut Sultan Alneyadi relocated a station computer from the Kibo laboratory module to the Harmony module for Ax-2 crew use.
Bowen would go on and work the rest of the day inside the Destiny laboratory module servicing life support gear that cools station hardware and rejects heat using water loops. Alneyadi charged batteries, removed components, and practiced installing jetpacks on the Extravehicular Mobility Units, or spacesuits, in preparation for upcoming spacewalks.
NASA Flight Engineer Frank Rubio worked inside the Kibo lab installing protein crystal research hardware and a centrifuge supporting life science and physics research. NASA astronaut Woody Hoburg wrapped up the checkout and activation of the Treadmill 2 in the Tranquility module following its inspection and cleaning earlier in the week.
Commander Sergey Prokopyev joined Flight Engineer Dmitri Petelin after breakfast for ultrasound scans of their stomachs to understand microgravity's effect on the digestion process. Roscosmos Flight Engineer Andrey Fedyaev attached sensors to himself recording his heart activity while pedaling on an exercise cycle for a fitness evaluation. Fedyaev that partnered with Prokopyev at the end of the day transferring cargo from the ISS Progress 83 resupply ship docked to the Zvezda service module's aft port.
---
Learn more about station activities by following the space station blog, @space_station and @ISS_Research on Twitter, as well as the ISS Facebook and ISS Instagram accounts.
Get weekly video highlights at: https://roundupreads.jsc.nasa.gov/videoupdate/
Get the latest from NASA delivered every week. Subscribe here: www.nasa.gov/subscribe