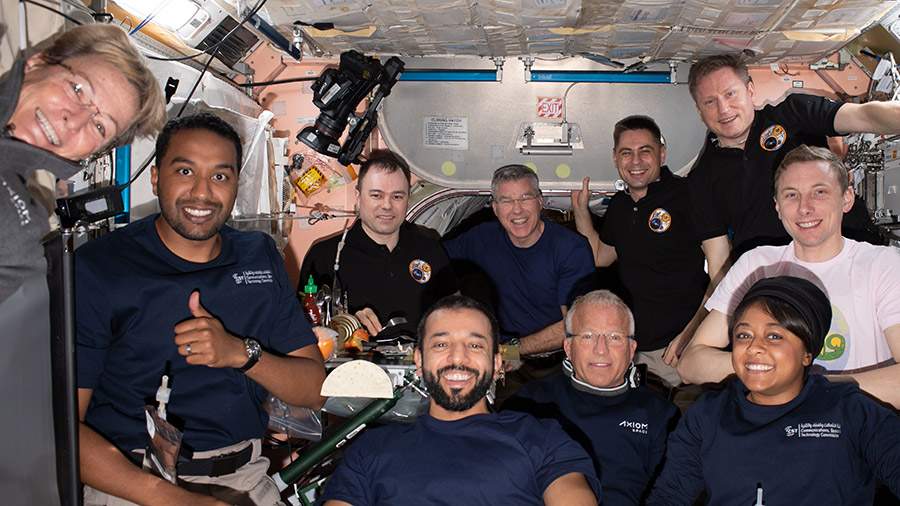 The Expedition 69 and Axiom Mission-2 (Ax-2) crews worked throughout Thursday conducting a multitude of space research aboard the International Space Station. Meanwhile, the orbiting lab's three cosmonauts started unpacking a new cargo ship and worked on the European robotic arm controller.
Science is moving full speed ahead aboard the orbital outpost as four Expedition 69 astronauts and four Ax-2 private astronauts focused their research activities on a variety of space biology studies on Thursday. The life science and human research studies may provide insights unattainable on Earth promoting healthier astronauts living in space and humans on the ground.
UAE (United Arab Emirates) astronaut Sultan Alneyadi assisted Ax-2 Mission Specialist Rayyanah Barnawi in the Kibo laboratory module as she treated samples for a study exploring the effects of microgravity on the inflammatory response of human cells. Afterward, Barnawi was joined by NASA Flight Engineer Frank Rubio as she serviced stem cell samples inside Kibo's Life Science Glovebox to potentially improve regenerative cell therapies on Earth.
Ax-2 Pilot John Shoffner and Ax-2 Mission Specialist Ali Alqarni joined each other for eye and brain scans. The private astronauts took turns in the morning scanning each other's eyes with the Ultrasound 2 device in the Columbus laboratory module. The pair then got back together in the Destiny laboratory module during the afternoon, each wearing a cap filled with sensors, for a scan of their brains' oxygen levels using near-infrared light. The scans are part of a single Ax-2 study that may provide insights into the effects of weightlessness on cognition and vision.
NASA Flight Engineers Stephen Bowen and Woody Hoburg also participated in a pair of eye scans on Thursday. The duo's first test saw them scanning each other's eyes with the Ultrasound 2 in Columbus. Afterward, Hoburg examined Bowen's eyes using standard medical imaging hardware in the Harmony module that can be found in an optometrist's office on Earth. Doctors on the ground assisted the pair during both eye checks to understand how an astronaut's eye shape and vision may change while living long-term in space.
Ax-2 Commander Peggy Whitson began her day swapping tumor cell samples inside a fluorescence microscope to help researchers understand how cancers form and possibly develop ways to predict and treat cancer on Earth. The former NASA astronaut would later spend the rest of the day supporting her Ax-2 crewmates.
Station Commander Sergey Prokopyev and Flight Engineer Dmitri Petelin, both from Roscosmos, began Thursday disassembling the new ISS Progress 84 (84P) resupply ship's docking mechanism following its arrival at 11:19 a.m. EDT on Wednesday. Petelin would go on and unpack priority cargo from inside the 84P. Prokopyev studied futuristic spacecraft and robotic piloting techniques then stowed trash and discarded gear inside the ISS Progress 83 cargo craft. Meanwhile, Flight Engineer Andrey Fedyaev worked throughout Thursday configuring data on the European robotic arm's internal controller located inside the Nauka science module.
---
Learn more about station activities by following the space station blog, @space_station and @ISS_Research on Twitter, as well as the ISS Facebook and ISS Instagram accounts.
Get weekly video highlights at: https://roundupreads.jsc.nasa.gov/videoupdate/
Get the latest from NASA delivered every week. Subscribe here: www.nasa.gov/subscribe