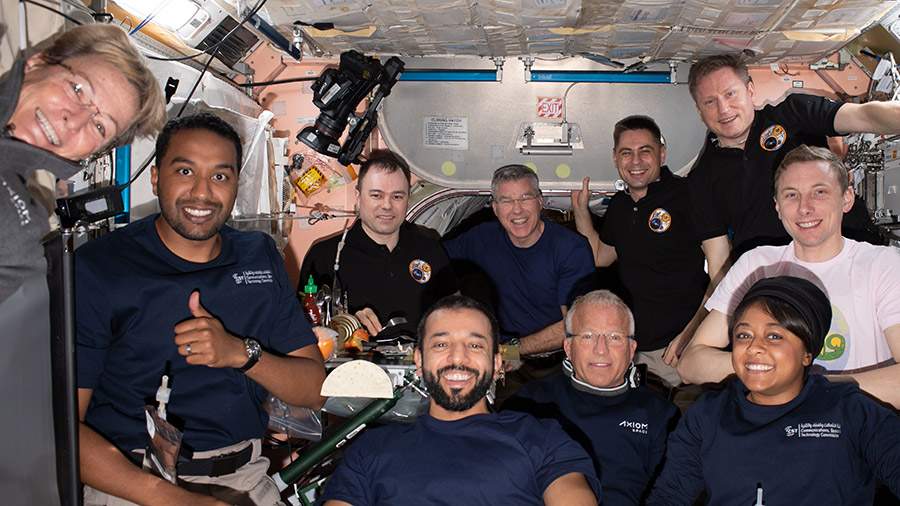 Life science for the benefit of human beings living on and off the Earth once again filled the research schedule aboard the International Space Station for the Expedition 69 and Axiom Mission-2 (Ax-2) crew members.
Flight Engineers Frank Rubio of NASA and Sultan Alneyadi of UAE (United Arab Emirates) worked on a pair of space biology studies with Ax-2 Mission Specialists Ali Alqarni and Rayyanah Barnawi throughout Friday. Alneyadi partnered with Barnawi during the morning treating human cell samples inside the Kibo laboratory module's Life Science Glovebox (LSG) for a study observing their inflammatory response to microgravity. Barnawi then spent the afternoon servicing stem cell samples in the LSG with Rubio for a study that seeks to improve regenerative cell therapies on Earth. Alqarni began the stem cell study during the morning inserting the samples into a fluorescence microscope for imaging inside the Destiny laboratory module.
At the end of the day, Alneyadi got together again with Barnawi and Alqarni for the Bio-Data investigation helping the private astronauts measure their blood pressure, blood oxygen, heart rate levels, and investigate changes in brain blood flow and function in microgravity. The human research study is assessing different tools that monitor brain and eye health and may offset the long-term effects of living in weightlessness.
Ax-2 Commander Peggy Whitson and Pilot John Shoffner also worked on different biomedical research studies exploring ways to improve life on Earth and in space. Whitson removed tumor cell samples from a research incubator and placed them in the fluorescence microscope for imaging to learn how cancers form and possibly develop ways to predict and treat cancer on Earth. Shoffner exercised while wearing a specialized skinsuit to demonstrate its ability to prevent space-caused and Earth-bound back problems.
NASA Flight Engineers Stephen Bowen and Woody Hoburg had their hands full on Friday reviewing spacewalk procedures and organizing cargo for return to Earth. The duo first took turns studying maneuvers on a computer for an upcoming spacewalk to install a roll-out solar array on the orbital outpost's truss structure. Bowen and Hoburg then spent the afternoon together collecting and prepacking gear that will be stowed inside the SpaceX Dragon cargo vehicle after it arrives in June.
The space station's three cosmonauts spent their day on cardiac research, cargo duties, and life support maintenance. Commander Sergey Prokopyev first attached sensors to himself measuring his heart activity for a long-running Roscosmos cardiac study. Afterward, he replaced components inside the Vozdukh carbon dioxide removal device then checked its performance. Flight Engineers Dmitri Petelin and Andrey Fedyaev partnered together in the morning updating station data files to account for Wednesday's arrival of the ISS Progress 84 resupply ship. The duo then split up for the rest of the day working on orbital plumbing and ventilation systems.
---
Learn more about station activities by following the space station blog, @space_station and @ISS_Research on Twitter, as well as the ISS Facebook and ISS Instagram accounts.
Get weekly video highlights at: https://roundupreads.jsc.nasa.gov/videoupdate/
Get the latest from NASA delivered every week. Subscribe here: www.nasa.gov/subscribe