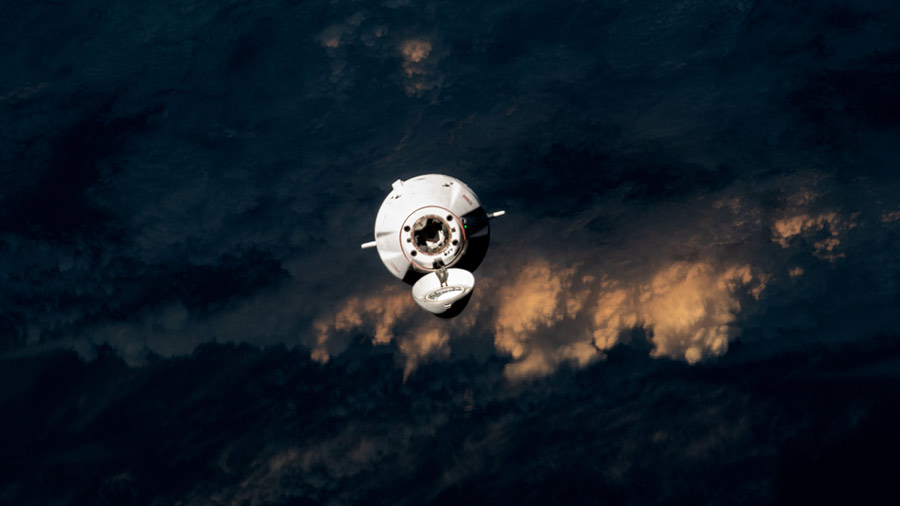 Expedition 69 crew members have opened the hatch to the SpaceX Dragon cargo craft and begun unpacking several tons of cargo packed inside. Stowed inside the resupply ship is a pair of roll-out solar arrays that will soon be removed for installation on the International Space Station during the next spacewalk.
Dragon craft docked to the orbital outpost's Harmony module at 5:54 a.m. EDT on Tuesday less than a day after launching from NASA's Kennedy Space Center. Dragon's hatch was opened less than two hours later following the completion of standard air and pressure leaks. Soon after, Flight Engineers Frank Rubio, Stephen Bowen, and Woody Hoburg, all from NASA, and Sultan Alneyadi from UAE (United Arab Emirates) entered Dragon and began offloading some of the more than 7,000 pounds of science experiments, station hardware, and crew supplies packed inside.
Controllers on the ground will also command the Canadarm2 robotic arm to extract a pair of roll-out solar arrays stowed inside Dragon's unpressurized trunk. The remotely-controlled Canadarm2 will gently maneuver the solar arrays and temporarily stow them on a pallet attached to the station's starboard-side truss structure. The robotic transfer work prepares the solar arrays for installation and activation on the starboard truss structure during a spacewalk planned to start at 9:15 a.m. on Friday.
Bowen and Hoburg will be the two spacewalkers installing the station's fifth set of roll-out solar arrays on Friday. The two astronauts began Wednesday morning organizing tools and reviewing the procedures they will use during the seven-hour spacewalk. Rubio and Alneyadi, who will assist the spacewalkers from inside the station, also participated in the tool work and procedure reviews. The quartet will get back together on Thursday for final preparations including a last look at the spacewalk procedures, a final robotics review, and a conference with mission specialists on the ground.
In the midst of Wednesday's spacewalk preparations, the four astronauts fit in other duties including running science experiments and maintaining lab operations. Bowen set up standard optometry gear found in a doctor's office on Earth and imaged Hoburg's eyes for a human research study. Rubio continued unpacking Dragon while Alneyadi conducted test runs of an Astrobee robotic free-flying assistant.
The station's three cosmonauts had their day full of research, electronics maintenance, and cargo duties in the Roscosmos segment of the orbiting lab. Commander Sergey Prokopyev and Flight Engineer Andrey Fedyaev took turns wearing a cap packed with sensors that monitored their brain activity while practicing futuristic robotic and spacecraft piloting techniques on a computer. Flight Engineer Dmitri Petelin worked throughout the day testing power and data cables in the Zvezda service module before transferring cargo from the ISS Progress 84 space freighter.
---
Learn more about station activities by following the space station blog, @space_station and @ISS_Research on Twitter, as well as the ISS Facebook and ISS Instagram accounts.
Get weekly video highlights at: https://roundupreads.jsc.nasa.gov/videoupdate/
Get the latest from NASA delivered every week. Subscribe here: www.nasa.gov/subscribe