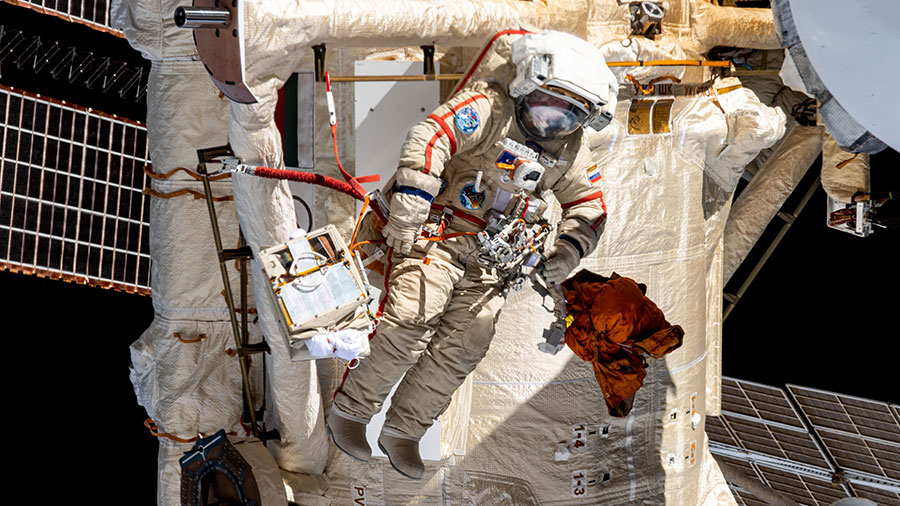 Preparations continue for Thursday's spacewalk to replace hardware on the International Space Station. The Expedition 69 crew also stayed focused on ongoing cargo transfers while conducting a variety of lab maintenance on Wednesday.
Two cosmonauts are completing their task reviews and spacesuit configurations ahead of a spacewalk set to begin about 10:20 a.m. EDT on Thursday. Commander Sergey Prokopyev and Flight Engineer Dmitri Petelin will spend about seven hours in the vacuum of space replacing science and communications hardware on the Zvezda and Poisk modules. NASA TV will begin its live spacewalk coverage at 9:45 a.m. on the agency's app and website.
The duo started Wednesday morning reviewing the spacewalk timeline and the steps necessary to complete the hardware replacement work and the photographic inspections afterward. Following the timeline review, Prokopyev and Petelin installed lights, cameras, and batteries on their spacesuits with assistance from NASA Flight Engineer Stephen Bowen. This will be the cosmonauts' fifth spacewalk together and the ninth spacewalk of 2023.
Bowen started his day with a hearing assessment before working on stowage activities in the Zenith-1 truss segment attached to the Unity module. He then spent his afternoon with NASA Flight Engineer Woody Hoburg transferring cargo in and out of the SpaceX Dragon cargo vehicle. Earlier, Hoburg swapped out components inside the Tranquility module's waste and hygiene compartment, or the station's bathroom.
Roscosmos Flight Engineer Andrey Fedyaev joined his cosmonaut crewmates Wednesday morning for the spacewalk timeline review. Next, he gathered radiation sensors the spacewalkers will wear on their spacesuits on Thursday. In the afternoon, Fedyaev treated surfaces in the Zarya module with an anti-fungal agent then wrapped up his day with a hearing assessment.
NASA Flight Engineer Frank Rubio began his day inside the Columbus laboratory module swapping portable computer hard drives. He then spent the rest of the day inside the Quest airlock checking a battery charger and inspecting power cables. UAE (United Arab Emirates) astronaut Sultan Alneyadi strapped sensors to himself to monitor his breathing volume and blood pressure while he pedaled on an exercise bike for the Cardiobreath human research study.
---
Learn more about station activities by following the space station blog, @space_station and @ISS_Research on Twitter, as well as the ISS Facebook and ISS Instagram accounts.
Get weekly video highlights at: https://roundupreads.jsc.nasa.gov/videoupdate/
Get the latest from NASA delivered every week. Subscribe here: www.nasa.gov/subscribe