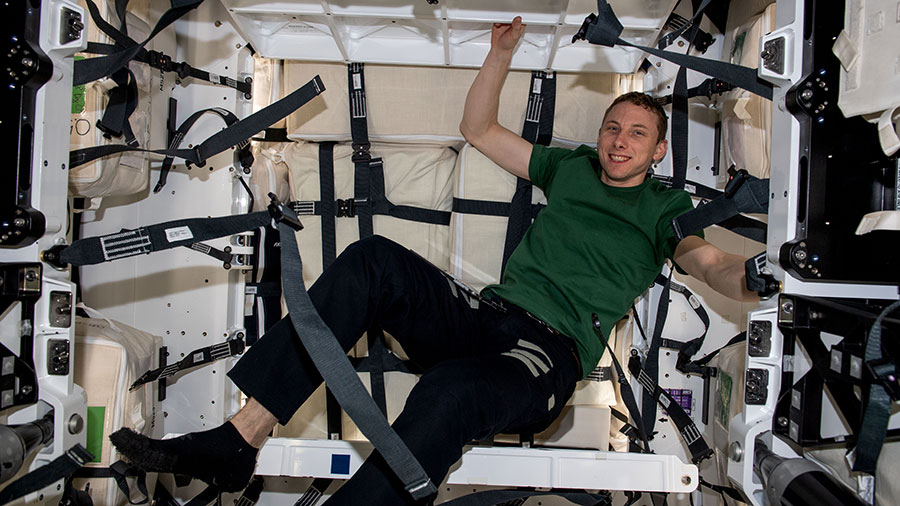 Space botany, microbiology, and future piloting techniques were the main experiments aboard the International Space Station on Monday. The Expedition 69 crew members are also readying a cargo vehicle for its departure and continuing to clean up after last week's spacewalk.
Following a busy period of spacewalks at the orbital outpost, the station's residents returned their attention to microgravity research on Monday benefitting humans living on and off the Earth.
NASA Flight Engineer Woody Hoburg worked in the Kibo laboratory module preparing the Advanced Plant Habitat for upcoming research operations. Hoburg installed and replaced components inside the botany science facility for the Plant Habitat-03 experiment that will observe space-caused genetic adaptations in plants.
NASA Flight Engineer Stephen Bowen started his day installing research hardware on an experiment platform and placing it inside Kibo's airlock for exposure to the vacuum of space. Afterward, Bowen analyzed slides containing incubated microbe samples collected from the station's air and surfaces.
UAE (United Arab Emirates) astronaut Sultan Alneyadi swapped out hardware inside the Materials Science Laboratory, a physics research facility, and prepared it for calibration inside the Destiny laboratory module. Alneyadi also loaded sample-packed science freezers inside the SpaceX Dragon cargo vehicle for retrieval back on Earth at the end of the week.
NASA astronaut Frank Rubio took the day off Monday relaxing and taking time out for exercising.
Commander Sergey Prokopyev and Flight Engineer Dmitri Petelin took turns on Monday wearing a sensor-packed cap and practicing futuristic piloting techniques. The Pilot-T study takes place on a computer and monitors how a crew member might react and control spacecraft or robots on a planetary mission.
Flight Engineer Andrey Fedyaev spent Monday morning collecting air samples from the Zvezda, Nauka, and Poisk modules. In the afternoon, Fedyaev checked laptop computer hardware and serviced ventilation systems inside Nauka.
---
Learn more about station activities by following the space station blog, @space_station and @ISS_Research on Twitter, as well as the ISS Facebook and ISS Instagram accounts.
Get weekly video highlights at: https://roundupreads.jsc.nasa.gov/videoupdate/
Get the latest from NASA delivered every week. Subscribe here: www.nasa.gov/subscribe