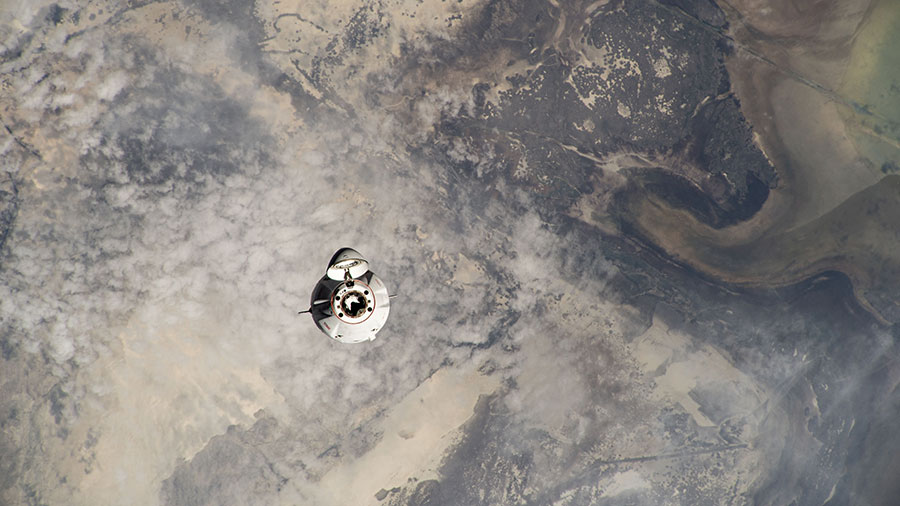 A U.S. cargo craft is being packed and readied for its undocking from the International Space Station and its retrieval on Earth at the end of the week. The Expedition 69 crew members also focused their Tuesday research activities on space botany, robotics, and human research.
The SpaceX Dragon cargo spacecraft is nearing the end of its stay at the orbital lab and is scheduled to undock at 12:05 p.m. EDT on Thursday. NASA TV will begin its live undocking and departure coverage at 11:45 a.m. on the agency's app and website.
NASA Flight Engineers Frank Rubio, Woody Hoburg, and Stephen Bowen along with UAE (United Arab Emirates) Flight Engineer Sultan Alneyadi worked throughout Tuesday continuing to load Dragon with some of the 3,600 pounds of cargo that will return to Earth. Dragon is due to splash down off the coast of Florida about 2:30 a.m. on Friday for retrieval by NASA and SpaceX personnel. Dragon arrived at the station on June 6 packed with over 7,000 pounds of new science experiments, crew supplies, and lab hardware.
The astronaut quartet also split its day with a variety of research and maintenance activities. Hoburg added water to the Advanced Plant Habitat for an upcoming space botany study. Alneyadi swapped components on an artificial gravity-generating research incubator then configured the Astrobee robotic free-flyers for a student competition.
While Rubio spent most of Tuesday on Dragon cargo transfers, he also had time for hardware inspections inside the Microgravity Science Glovebox in the afternoon. Bowen swapped out life support components and charged wearable medical monitoring gear. Bowen and Hoburg also spent an hour before lunchtime reviewing Dragon Endeavour crew spacecraft departure procedures.
Flight Engineer Dmitri Petelin collected his saliva and hair samples for a study that will analyze them to understand how the human immune system adapts to microgravity. Commander Sergey Prokopyev and Flight Engineer Andrey Fedyaev primarily focused their activities on maintenance on Tuesday. The two cosmonauts worked in the Zvezda service module as Prokopyev worked on ventilation systems while Fedyaev checked its power supply and oxygen generator.
---
Learn more about station activities by following the space station blog, @space_station and @ISS_Research on Twitter, as well as the ISS Facebook and ISS Instagram accounts.
Get weekly video highlights at: https://roundupreads.jsc.nasa.gov/videoupdate/
Get the latest from NASA delivered every week. Subscribe here: www.nasa.gov/subscribe