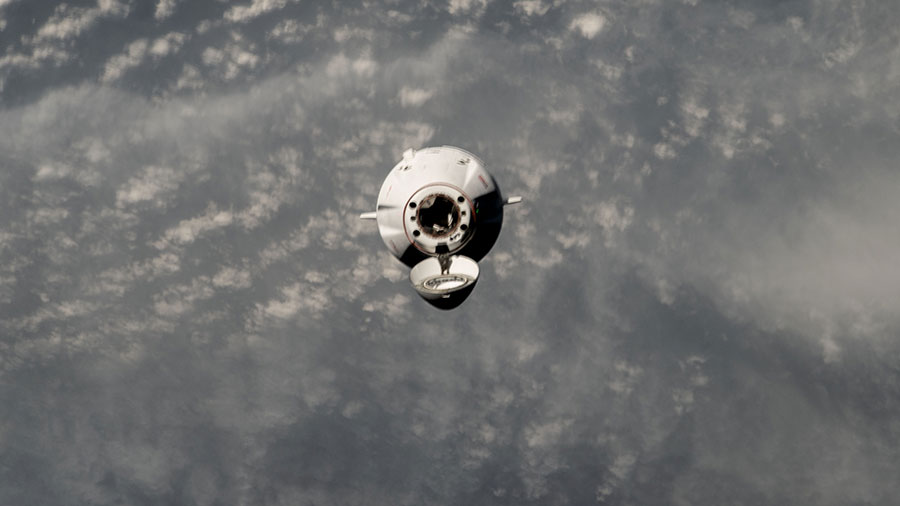 Mission managers have given the go for the undocking of the SpaceX Dragon cargo spacecraft from the International Space Station on Thursday. As Dragon nears its departure, the Expedition 69 crew also worked on advanced science hardware while conducting cardiac research and immunity studies.
Flight Engineers Woody Hoburg, Stephen Bowen, and Sultan Alneyadi took turns on Wednesday loading some of the 3,600 pounds of cargo that will return to Earth inside Dragon. The trio will get back together on Thursday for final cargo activities as they pack critical research samples inside Dragon's return science freezers before closing its hatch.
Dragon is scheduled to undock from the Harmony module's space-facing port at 12:05 p.m. EDT on Thursday. It will parachute to a splashdown off the coast of Florida early Friday morning for retrieval by SpaceX and NASA personnel. NASA TV will cover Dragon's undocking and departure beginning at 11:45 a.m. on the agency's app and website. NASA will not broadcast the splashdown, but updates will be posted on the agency's space station blog.
Bowen began his day in the Kibo laboratory module setting up the NanoRacks CubeSat deployer that will soon be placed into the vacuum of space outside Kibo's airlock. The deployer will release six different nanosatellites into Earth orbit for Earth observations, communication studies, materials research, and a technology demonstration. NASA Flight Engineer Frank Rubio activated the Astrobee robotic free-flyers during the afternoon and performed software test runs on the devices with assistance from ground controllers.
Hoburg from NASA and Alneyadi from UAE (United Arab Emirates) partnered together in the afternoon for maintenance duties inside the Quest airlock. The duo secured airlock closeout panels and stowage platforms inside Quest.
Human research was a top priority on Wednesday for the cosmonauts working in the orbital outpost's Roscosmos segment. Flight Engineer Dmitri Petelin assisted Commander Sergey Prokopyev as he attached sensors to himself monitoring how living in microgravity affects his blood pressure and his cardiovascular health. Petelin stowed research hardware then downloaded data collected for a study that observes how the human immune system adapts to long-term weightlessness.
Flight Engineer Andrey Fedyaev set up a camera inside the Poisk module and pointed it out a window to photograph the external condition of the Roscosmos segment of the space station. He also spent some time working on ventilation systems inside the Nauka science module.
---
Learn more about station activities by following the space station blog, @space_station and @ISS_Research on Twitter, as well as the ISS Facebook and ISS Instagram accounts.
Get weekly video highlights at: https://roundupreads.jsc.nasa.gov/videoupdate/
Get the latest from NASA delivered every week. Subscribe here: www.nasa.gov/subscribe