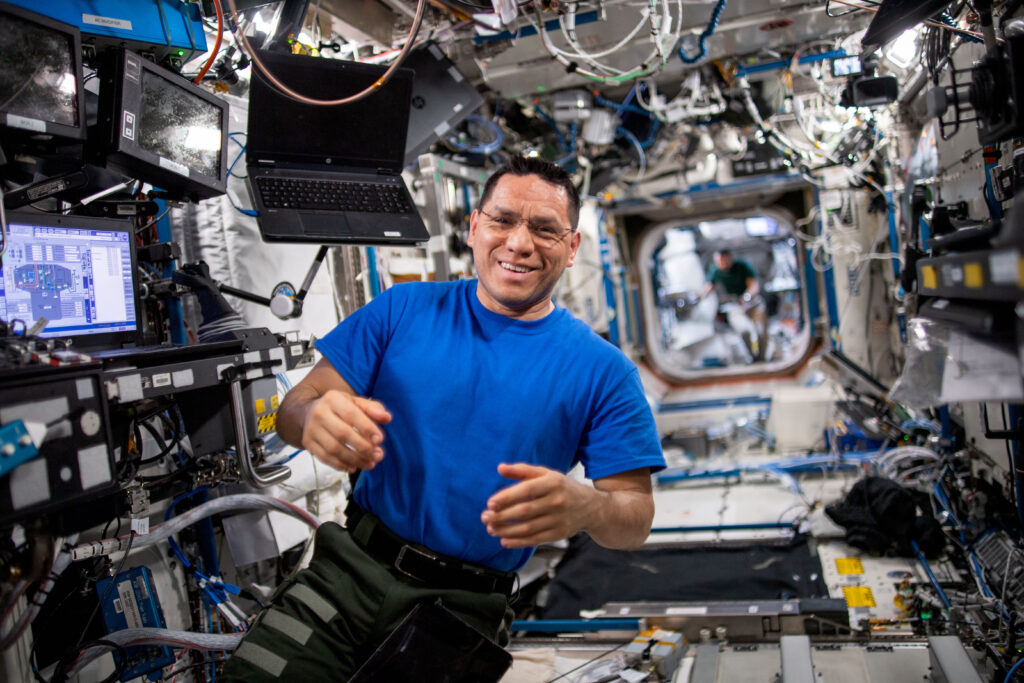 After a weekend off-duty, the Expedition 69 crew is kicking off their week with a variety of experiment preparations and system maintenance on the International Space Station.
NASA astronaut Stephen Bowen started his day removing HICARI-2 samples from the Gradient Heating Furnace (GHF) in the Japanese Experiment Module, Kibo. Hicari is an experiment led by the Japan Aerospace Exploration Agency (JAXA) to investigate high-quality crystal growth of semiconductors.
While Bowen separated Hicari samples for return, NASA Flight Engineer Frank Rubio refreshed internal computer systems on the station. The two then took turns exercising on the station's Cycle Ergometer with Vibration Isolation and Stabilization System (CEVIS) bicycle and the Advanced Resistive Exercise Device (ARED), which is a machine that simulates free weights for resistive exercise to help astronauts maintain bone and muscle strength in microgravity.
Rubio ended his day setting up hardware for the crew to collect saliva samples. The samples will be monitored and stored for future analysis on Earth to better understand crew health in space. Following Rubio's earlier computer refresh, Bowen ended his day stowing items and hardware after the refresh was completed.
NASA astronaut Woody Hoburg performed EVA battery maintenance following his and Bowen's spacewalk on June 15. United Arab Emirates (UAE) Flight Engineer Sultan Alneyadi prepped and turned on Astrobee, which are free-flying robots aboard the station that are used to assist astronauts with their daily duties. He also spent time surveying the Unity and Harmony modules for future hardware relocation. Hoburg and Alneyadi then took turns exercising on ARED and the station's treadmill.
Cosmonaut Flight Engineers Dmitri Petelin and Andrey Fedyaev worked in tandem to perform sampling of microflora while Commander Sergey Prokopyev performed maintenance in the Zvezda service module.
---
Learn more about station activities by following the space station blog, @space_station and @ISS_Research on Twitter, as well as the ISS Facebook and ISS Instagram accounts.
Get weekly video highlights at: https://roundupreads.jsc.nasa.gov/videoupdate/
Get the latest from NASA delivered every week. Subscribe here: www.nasa.gov/subscribe