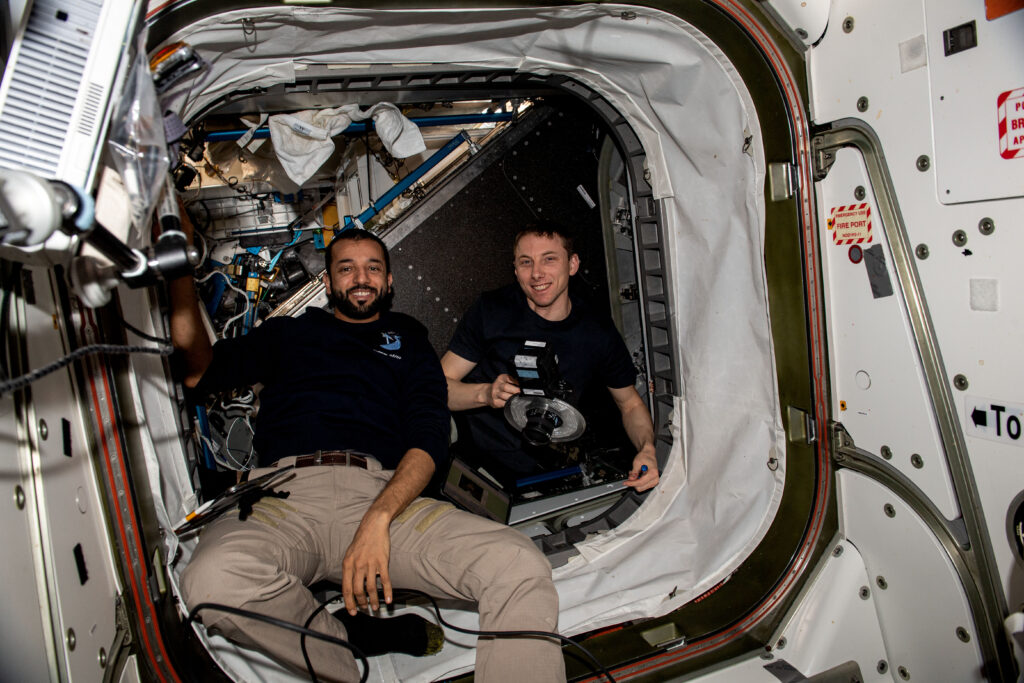 Three Expedition 69 crew members spent their day on the International Space Station performing work in the Bigelow Expandable Activity Module, or BEAM, while other crew members completed a variety of Food Physiology experiments and hearing assessments.
NASA astronauts Stephen Bowen and Woody Hoburg, and United Arab Emirates (UAE) Flight Engineer Sultan Alneyadi performed maintenance and prepped BEAM for a mid-day entry. The seven-year-old module is an expandable capsule attached to the station's Tranquility module and allows an additional space for crews to work.
Bowen spent his morning temporarily stowing items and cleaning BEAM, while Alneyadi and Hoburg completed maintenance in tandem. Hoburg later collected atmospheric and surface microbe samples from BEAM for future analysis. Bowen then entered BEAM for inspection, and later, exited and stowed tools and materials. In addition, Alneyadi moved MATISS samples that investigate antibacterial properties of materials in space while Hoburg cleaned vents that monitor the station's air quality.
NASA Flight Engineer Frank Rubio spent his day performing connection checks of data management systems and completing a round of sample collections for the Food Physiology investigation. Rubio also conducted a hearing test, regular assessments such as this measure hearing function while exposed to the environment of microgravity in long-duration spaceflight.
Cosmonaut Flight Engineer Dmitri Petelin and Commander Sergey Prokopyev also conducted hearing assessments, while Flight Engineer Andrey Fedyaev performed station maintenance.
Following the July 4 holiday, the space station is orbiting slightly higher after the 83P fired its engines for 18 minutes and 52 seconds Tuesday afternoon. The orbital reboost sets up the correct phasing for the ISS Progress 85 resupply mission next month.
---
Learn more about station activities by following the space station blog, @space_station and @ISS_Research on Twitter, as well as the ISS Facebook and ISS Instagram accounts.
Get weekly video highlights at: https://roundupreads.jsc.nasa.gov/videoupdate/
Get the latest from NASA delivered every week. Subscribe here: www.nasa.gov/subscribe