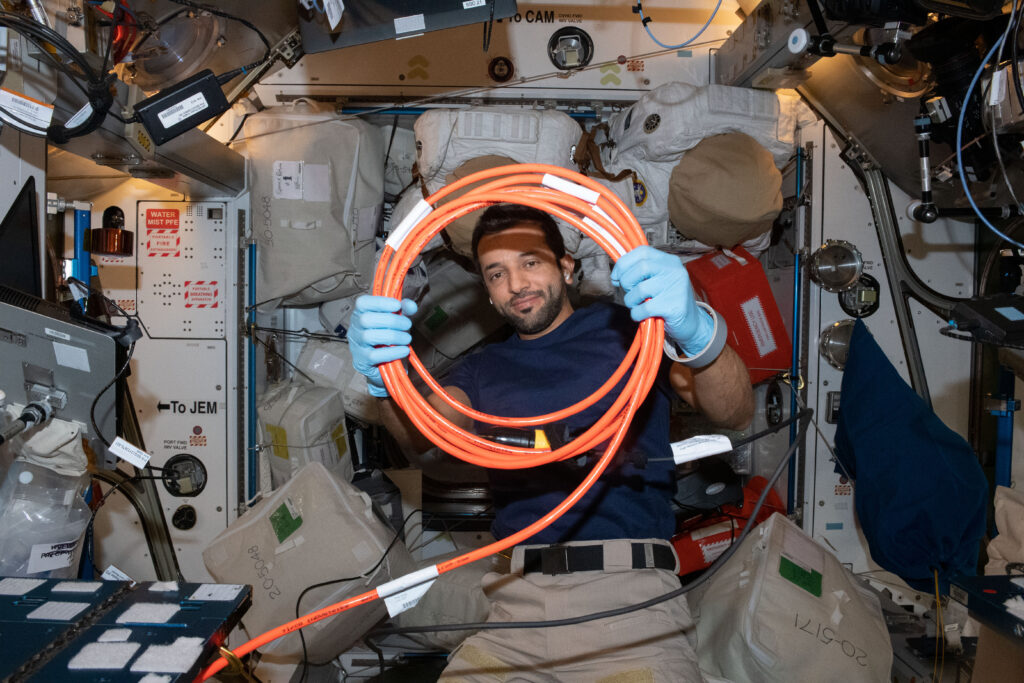 The Expedition 69 crew continues work started yesterday and last week and begins new tasks on the International Space Station today.
Following yesterday's start of installing new hardware to the station's wastewater processor system, NASA astronaut Woody Hoburg spent his day in the Tranquility module completing further tasks to finish out the system upgrade.  With the help of United Arab Emirates (UAE) Flight Engineer Sultan Alneyadi, the two worked together to install new hoses and pumps that will more efficiently process wastewater.
Ahead of the installation assists, Alneyadi once again sported the Dreams headband overnight for sleep monitoring. Following his morning activities of wrapping up the assessment, he configured and stowed the headband for future astronaut use.
NASA astronauts Stephen Bowen and Frank Rubio worked together to remove and replace the toilet system, part of the station's Waste and Hygiene Compartment, in the Tranquility module. Bowen also charged and swapped batteries in Astrobee, the free-flying robots aboard the orbital lab. He ended his day setting up Actiwatch—a sleep-wake activity monitor that crew members wear overnight on their wrists—and inspecting the conditions of blankets and blanket covers in crew quarters for future replacements.
In addition to the toilet system replacement, Rubio connected cables, hoses, and bags to the Japanese Experiment Module Water Recovery System located in the Kibo Laboratory.
Cosmonaut Commander Sergey Prokpyev spent much of his day in the Zvezda service module surveying and performing system maintenance. Flight Engineer Dmitri Petelin continued his prep of a cargo unload plan he began last week for the upcoming ISS Progress 85 mission. After starting the EarthKAM software two days ago, Flight Engineer Andrey Fedyaev went back and configured the camera with a new lens. Additionally, he took up-to-date photos of the Multipurpose Laboratory Module, or Nauka, for future installation of additional handrails.
---
Learn more about station activities by following the space station blog, @space_station and @ISS_Research on Twitter, as well as the ISS Facebook and ISS Instagram accounts.
Get weekly video highlights at: https://roundupreads.jsc.nasa.gov/videoupdate/
Get the latest from NASA delivered every week. Subscribe here: www.nasa.gov/subscribe