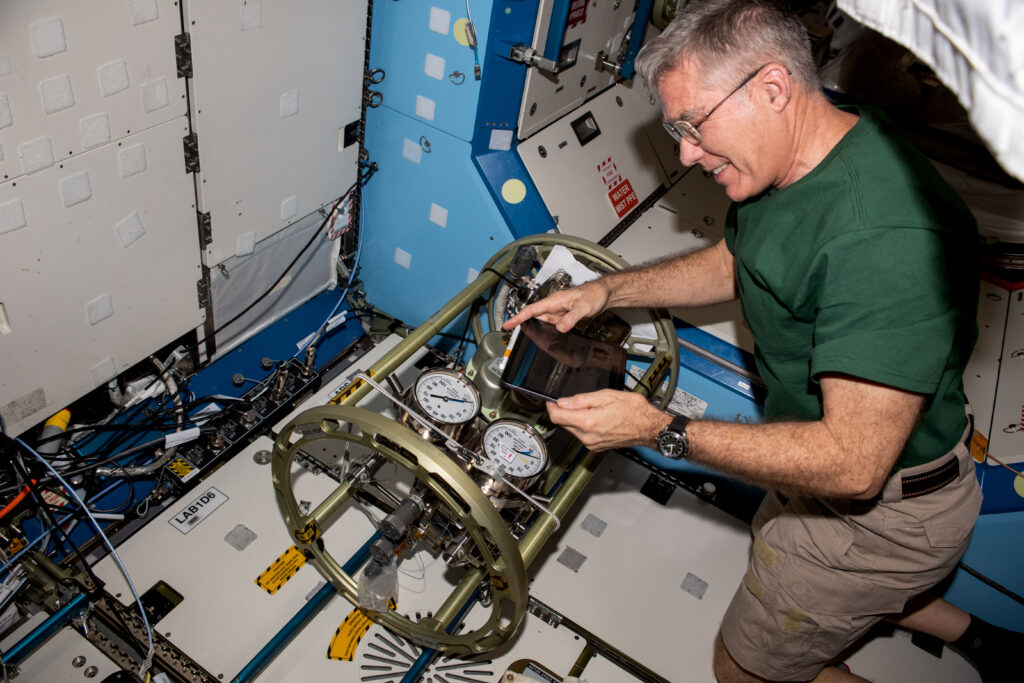 Two Expedition 69 crew members are preparing for the upcoming Northrop Grumman cargo resupply mission. Space biology and another round of eye exams are also underway today aboard the International Space Station.
NASA astronauts Frank Rubio and Woody Hoburg spent most of their morning reviewing procedures and completing training for Northrop Grumman's 19th commercial resupply mission bound for the station in August. Rubio and Hoburg will assist with the rendezvous and docking of the Cygnus spacecraft as it delivers new science investigations, hardware and supplies for the crew. The duo also worked on the BFF-Meniscus investigation, retrieving samples and printing with cells using the BioFabrication Facility—a 3D printer that investigates the feasibility of printing organ-like tissues in microgravity.
Later in the evening, Rubio assisted and guided another set of eye exams on NASA astronaut Stephen Bowen. Ahead of exams, Bowen collected saliva samples for ongoing research and replaced filters in the station's Waste and Hygiene Compartment.
United Arab Emirates (UAE) Flight Engineer Sultan Alneyadi ran Genes in Space-10 operations which measure and analyze DNA length using fluorescent samples. The Genes in Space program consists of ongoing investigations that allow middle and high school students to design DNA experiments that address a challenge in space exploration.
Commander Sergey Prokopyev of Roscosmos wore a sensor-packed cap for the Pilot-T experiment, an investigation that provides crew members the opportunity to practice piloting techniques and explore how spacefarers may react and control spacecraft on future planetary missions. Flight Engineer Andrey Fedyaev assessed device operations in the Nauka module, and was later given an eye exam using imaging hardware that Flight Engineer Dmitri Petelin guided.
---
Learn more about station activities by following the space station blog, @space_station and @ISS_Research on Twitter, as well as the ISS Facebook and ISS Instagram accounts.
Get weekly video highlights at: https://roundupreads.jsc.nasa.gov/videoupdate/
Get the latest from NASA delivered every week. Subscribe here: www.nasa.gov/subscribe