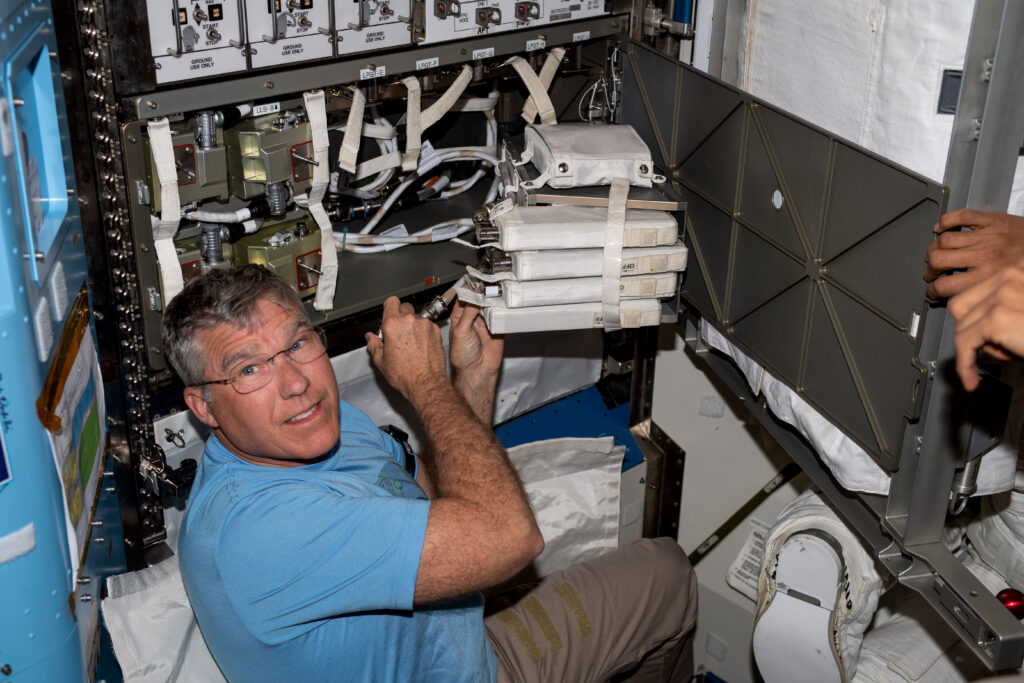 The seven-member Expedition 69 crew is keeping busy Tuesday with a round of training, prepping for an upcoming cargo delivery and tending to plants aboard the International Space Station.
NASA Flight Engineer Frank Rubio, joined by Commander Sergey Prokopyev and Flight Engineer Dmitri Petelin of Roscosmos began the day with a round of safety training. The rest of the crew, including NASA astronauts Stephen Bowen and Woody Hoburg, United Arab Emirates (UAE) Flight Engineer Sultan Alneyadi and Flight Engineer Andrey Fedyaev of Roscosmos completed the same training midafternoon.
Rubio then tended to seedlings growing aboard the orbital lab in Plant Habitat-03, thinning the Arabidopsis sprouts to retain a singular healthy plant per unit. These ongoing investigations assess if adaptations in one generation of plants grown in space can transfer to the next.
Meanwhile, Hoburg continued collecting samples for the Standard Measures investigation and was later joined by Rubio to complete the first robotics practice session to get set for the upcoming rendezvous and capture of Northrop Grumman's commercial cargo spacecraft, Cygnus. The company's 19th commercial resupply mission—packed with new science, hardware, and supplies for the crew—is targeted to launch at 8:31 p.m. EDT on Tuesday, August 1.
Bowen spent his morning consolidating stowage in the Japanese Experiment Module, then worked in tandem with Alneyadi performing cooling loop scrubs of spacesuits, or Extravehicular Mobility Units (EMUs), through the afternoon. Alneyadi ended his day by initiating Iodination of the spacesuits, both activities required to remove contaminants from the transfer loops.
Following his morning training, Prokopyev carried out additional cargo plans for the upcoming ISS Progress 85 mission arriving to the station in August. Additionally, he ran the Cardiovector investigation, which assesses cardiac function to study crew health in a low-gravity environment. Meanwhile, Petelin continued ongoing research of liquid phases in microgravity, while Fedyaev performed maintenance in the Poisk module.
Around 9 a.m., a power issue in Mission Control Houston resulted in the loss of command, telemetry, and voice from the ground to the International Space Station. The issue was isolated to the ground, and flight controllers were able to talk to the crew onboard station through Roscosmos channels, and at no point was the crew in any danger. The mission control team worked to transition to back-up hardware for telemetry, commanding, and audio. It is expected that by the end of the day the issue will be resolved and the system will be back into a normal configuration.
---
Learn more about station activities by following the space station blog, @space_station and @ISS_Research on Twitter, as well as the ISS Facebook and ISS Instagram accounts.
Get weekly video highlights at: https://roundupreads.jsc.nasa.gov/videoupdate/
Get the latest from NASA delivered every week. Subscribe here: www.nasa.gov/subscribe