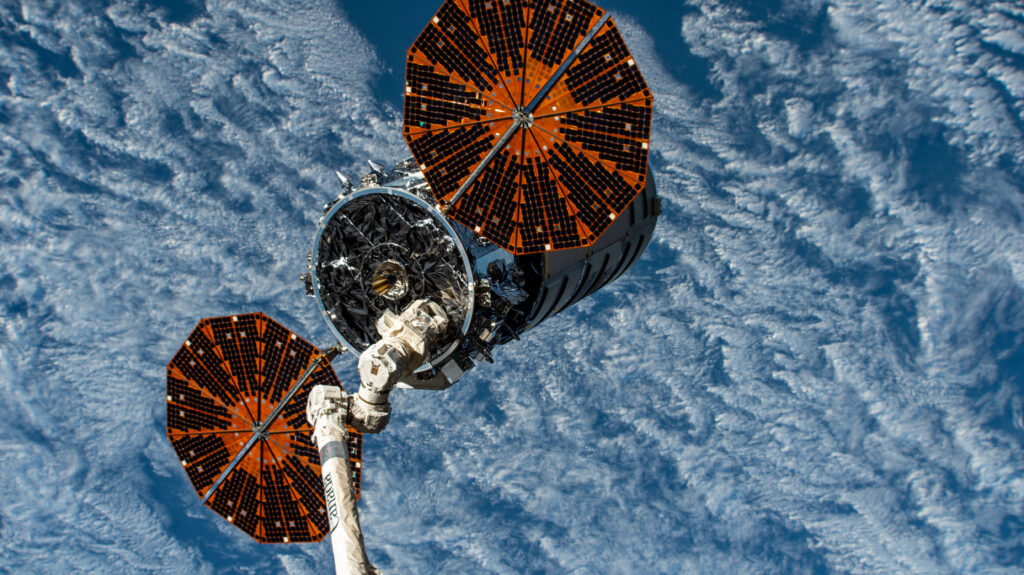 The Expedition 69 crew members carried out more station maintenance activities today aboard the International Space Station as they gear up for a busy month of mission events in August.
NASA astronaut Stephen Bowen was tasked with troubleshooting water supply hoses and replacing connections in the Glovebox Freezer, which integrates into the Life Sciences Glovebox sealed work space to rapid freeze biological samples. Additionally, Bowen removed samples from Iceberg for future assessment, which provides cold stowage for science and research aboard the orbital lab.
NASA astronaut Woody Hoburg and United Arab Emirates (UAE) Flight Engineer Sultan Alneyadi began their day collecting samples for the Standard Measures investigation. Hoburg later completed a cognition test for the ongoing assessment of human spaceflight risks for astronauts before, during, and after long-duration space missions. Midafternoon, he removed the Small Satellite Orbital Deployer from the Japanese Experiment Module after mini satellites were successfully deployed earlier this month.
Meanwhile, Alneyadi powered off Astrobee following yesterday's Zero Robotics dry-run session and installed sample holders for MATISS—an investigation of antibacterial properties of materials in space. He ended his day inspecting crew safety tethers and gathering tools for future Extravehicular Activities (EVAs) or spacewalks, as well as consolidating food in preparation for the upcoming cargo delivery on Northrop Grumman's Cygnus spacecraft.
Cygnus is targeted to launch at 8:31 p.m. EDT on Tuesday, August 1 from NASA's Wallops Flight Facility in Virginia. More than 8,200 pounds of supplies and science will be delivered to the crew on Friday, August 4, marking the company's 19th commercial resupply mission.
NASA Flight Engineer Frank Rubio enjoyed a well-deserved day off ahead of a busy day of tasks tomorrow.
Commander Sergey Prokoypev of Roscosmos is making headway on the cargo plan preparation for the upcoming ISS Progress 85 mission in August, spending most of his day between prep and performing maintenance in the Zvezda module. Flight Engineer Dmitri Petelin carried out additional experiments of liquid phases in microgravity, while Flight Engineer Andrey Fedyaev completed more upkeep activities in the Nauka module.
The space station is orbiting slightly higher after the 83P fired its engines for five minutes on Thursday. The orbital reboost raises the station to the correct altitude for the upcoming docking of the ISS Progress 85 resupply mission.
---
Learn more about station activities by following the space station blog, @space_station and @ISS_Research on Twitter, as well as the ISS Facebook and ISS Instagram accounts.
Get weekly video highlights at: https://roundupreads.jsc.nasa.gov/videoupdate/
Get the latest from NASA delivered every week. Subscribe here: www.nasa.gov/subscribe