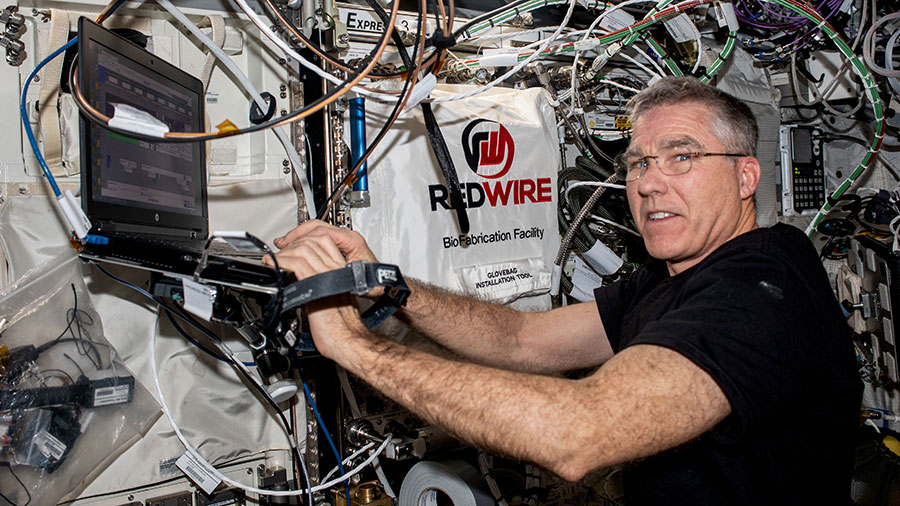 A wide variety of research kept the Expedition 69 crew busy aboard the International Space Station on Thursday. In the meantime, the orbital residents will welcome a U.S. cargo craft on Friday then turn their attention to a spacewalk next week.
Four astronauts from NASA and the UAE (United Arab Emirates) were back to work following a day off on Wednesday. The quartet had its hands full on Thursday studying how microgravity affects biology, physics, and robotics.
Flight Engineer Stephen Bowen serviced blood samples to assess how the immune system changes in weightlessness. Flight Engineer Frank Rubio swapped samples inside the Materials Science Laboratory, a research facility designed to discover new applications for existing materials and new or improved materials. Flight Engineer Woody Hoburg monitored the Astrobee robotic assistants that were controlled by student-written algorithms in support of the Astrobee-Zero Robotics competition for youth. Astronaut Sultan Alneyadi worked throughout the day on life support maintenance before familiarizing himself with the BioFabrication Facility, a 3D biological printer.
After the science work, all four flight engineers joined each other and called down to the next crew to visit the station, SpaceX Crew-7, and discussed the crew swap targeted for the end of the month. Finally, the foursome wrapped up its day with a conference with mission controllers to discuss Cygnus' arrival on Friday.
Cygnus is due to be captured at 5:55 a.m. EDT on Friday when Hoburg commands the Canadarm2 robotic arm to reach out and grapple the U.S. resupply ship. Rubio will be backing up Hoburg monitoring Cygnus as it arrives packed with over 8,200 pounds of science and supplies. Cygnus began its trip to the station after launching at 8:31 p.m. on Tuesday from NASA's Wallops Flight Facility in Virginia.
Just five days after Cygnus arrives, Commander Sergey Prokopyev and Flight Engineer Dmitri Petelin will exit the Poisk airlock in their Orlan spacesuits for the year's 10th spacewalk. They have been reviewing procedures this week for when they install micrometeoroid orbital debris shields and relocate hardware on the outside of the orbital lab on Aug. 9.
The duo from Roscosmos took a break from spacewalk preparations today and studied how living in space affects digestion and ways future crews may pilot planetary spacecraft and robots. Flight Engineer Andrey Fedyaev also participated in the space digestion study before attaching electrodes to himself for a 24-hour session measuring his heart activity and blood pressure.
---
Learn more about station activities by following the space station blog, @space_station and @ISS_Research on Twitter, as well as the ISS Facebook and ISS Instagram accounts.
Get weekly video highlights at: https://roundupreads.jsc.nasa.gov/videoupdate/
Get the latest from NASA delivered every week. Subscribe here: www.nasa.gov/subscribe