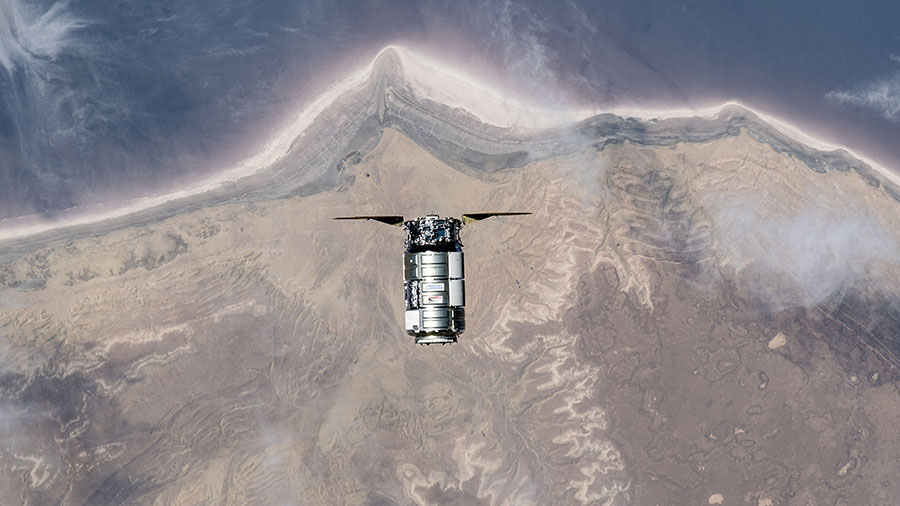 A U.S. cargo craft is open for business at the International Space Station and two cosmonauts are gearing up for a spacewalk on Wednesday. The Expedition 69 crew also kicked off the work week exploring high temperature physics and ways to make semiconductor crystals.
NASA Flight Engineer Frank Rubio worked throughout Monday unpacking some of the 8,200 pounds of science and supplies delivered aboard Northrop Grumman's Cygnus space freighter on Friday. A couple of the new experiments include investigations looking at the formation of 3D neuron cell structures and an Astrobee robotic free-flyer to assist astronauts. News crew supplies include food, water, life support gear, and spacewalking hardware.
Flight Engineers Stephen Bowen of NASA and Sultan Alneyadi of UAE (United Arab Emirates) worked on a pair of different space physics investigations on Monday. Bowen swapped out samples inside the Electrostatic Levitation Furnace that explores the thermophysical properties of materials subjected to high temperatures in microgravity. Alneyadi set up new hardware in the Microgravity Science Glovebox to improve the technology of producing semiconductor crystals.
NASA Flight Engineer Woody Hoburg began his day on science maintenance work swapping out research gear and inspecting a rack in the Columbus laboratory module. He also serviced new Cold Atom Lab hardware inside the Destiny laboratory module. The Cold Atom Lab observes the quantum behavior of atoms chilled to temperatures near absolute zero. Hoburg also joined his crewmates and assisted Rubio as he unloaded cargo from inside Cygnus.
Two cosmonauts are in final preparations for the year's 10th spacewalk out of the station set to begin at 10:45 a.m. on Wednesday. Commander Sergey Prokopyev and Flight Engineer Dmitri Petelin will exit the Poisk airlock in their Orlan spacesuits and spend about six and a half hours installing micrometeoroid orbital debris shields and relocating hardware. The duo from Roscosmos spent Monday configuring communications gear and checking their spacesuits for leaks. This will be Prokopyev's and Petelin's sixth spacewalk together since their first on Nov. 17, 2022.
Roscosmos Flight Engineer Andrey Fedyaev spent his day primarily on life support tasks. He started Monday replacing heat exchanger fans in the Nauka science module. In the afternoon, Fedyaev worked on the Zvezda service module's Elektron oxygen generator that splits reclaimed water into oxygen and hydrogen.
On Aug. 5, the Progress 83 spacecraft's thrusters fired for three minutes, 16 seconds in a planned avoidance maneuver to provide the International Space Station an extra measure of distance away from a predicted track of a debris fragment.
The thruster firing occurred at 10:03 p.m. EDT, and the maneuver had no impact on station operations, including the trajectory phasing for either the upcoming Roscosmos Progress 85 cargo launch on Tuesday, Aug. 22, and SpaceX Crew-7 launch on Aug. 25.