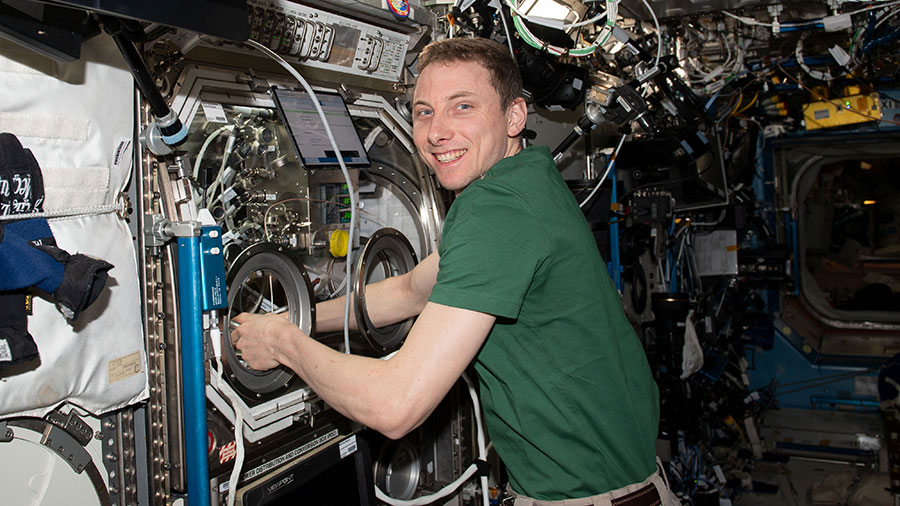 The Expedition 69 crew pointed its research program toward cancer therapies, vein scans, and space manufacturing on Thursday. The International Space Station will also see a Roscosmos cargo craft and a SpaceX crew spacecraft arrive next week.
Science on the orbital outpost can help doctors develop innovative treatments for a variety of health conditions on Earth. The weightless environment can reveal new phenomena offering unique insights impossible to discover in laboratories on Earth.
Flight Engineers Frank Rubio of NASA and Sultan Alneyadi of UAE (United Arab Emirates), working out of the Life Science Glovebox, serviced stem cell samples to learn how to increase their production in space. Scientists will use the research data to understand the potential of these space-grown stem cells for developing improved blood disease and cancer treatments.
Rubio later joined NASA Flight Engineer Woody Hoburg for vein scans using the Ultrasound 2 device in the Columbus laboratory module. The duo imaged their neck, shoulder, and knee areas looking for potential space-caused blood clots with real-time assistance from flight surgeons on the ground.
Hoburg earlier in the day assisted NASA Flight Engineer Stephen Bowen as he swapped graphene aerogel samples for a space manufacturing study. The physics investigation seeks to produce a superior, uniform material structure benefitting power storage, environmental protection, and chemical sensing.
Roscosmos cosmonauts Sergey Prokopyev and Andrey Fedyaev once again tried on a specialized suit on Thursday testing its ability to help them adapt to Earth's gravity. The cosmonauts are evaluating the lower body negative pressure suit for its potential to redistribute fluids that have pooled in the upper body due to microgravity toward the lower body.
Roscosmos Flight Engineer Dmitri Petelin tested piloting and robotic techniques that may be used on future planetary missions. He also worked throughout the day on Earth photography and science hardware maintenance.
The ISS Progress 83 cargo craft is due to end its six-month stay at the orbital lab on Sunday when it undocks from the Zvezda service module's aft port at 7:48 p.m. EDT. It will be replaced on Thursday Aug. 24, when the ISS Progress 85 cargo craft docks to the same port on Zvezda two days after its launch from the Baikonur Cosmodrome in Kazakhstan.
Just four hours after the Progress 85 arrives, four crew members aboard the SpaceX Dragon crew spacecraft will launch from the Kennedy Space Center to the space station. The SpaceX Crew-7 mission will dock to the Harmony module's space-facing port just one day after its liftoff and the four crew mates will enter the orbiting lab to begin a six-month space research mission.
---
Learn more about station activities by following the space station blog, @space_station and @ISS_Research on Twitter, as well as the ISS Facebook and ISS Instagram accounts.
Get weekly video highlights at: https://roundupreads.jsc.nasa.gov/videoupdate/
Get the latest from NASA delivered every week. Subscribe here: www.nasa.gov/subscribe