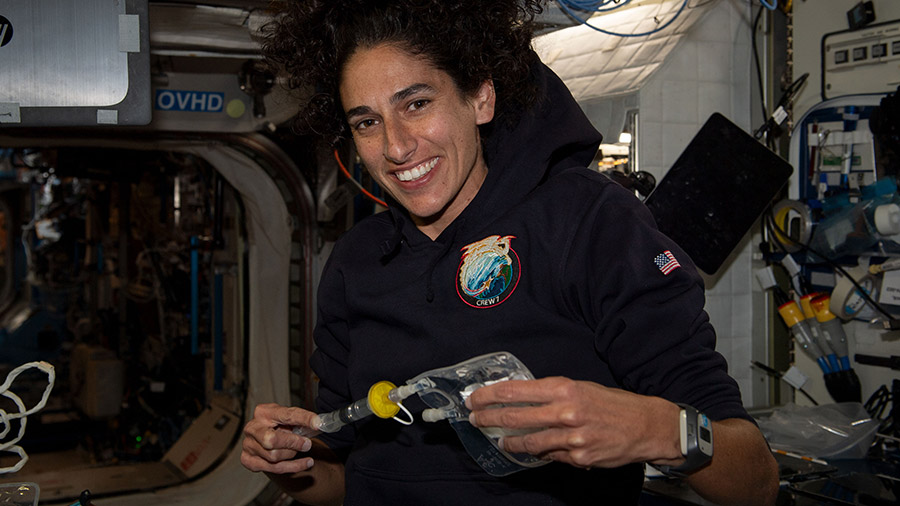 Life science and space physics continued aboard the International Space Station on Thursday helping researchers improve human health and advance fundamental knowledge. The Expedition 69 crew members also worked on spacesuit maintenance and ongoing cargo activities.
Flight Engineers Andreas Mogensen and Satoshi Furukawa concentrated their research activities on space biology to learn how weightlessness affects human immunity and the aging process. Mogensen from ESA (European Space Agency) spent his third day this week processing blood samples and preparing them for incubation to understand how space affects an astronaut's immune system. Furukawa from JAXA (Japan Aerospace Exploration Agency) sampled water from the Kibo laboratory module's water recovery system, conducted a hearing test, them swapped out commercial research hardware.
NASA Flight Engineer Frank Rubio collected samples from the potable water dispenser and analyzed them to detect microbes and determine the quality of the water. Afterward, Rubio finalized the hardware replacement work inside the Cold Atom Lab preparing the quantum research device, that chills atoms to near absolute zero, for testing and operations.
NASA Flight Engineer Jasmin Moghbeli inventoried medical supplies inside the Human Research Facility and photographed the contents for review by specialists on the ground. Next, she checked out a spacesuit jet pack testing its components and performing leak checks. The jet pack, also called Simplified Aid for EVA Rescue (SAFER), is attached to spacesuits the astronauts wear during spacewalks. The SAFER provides controls allowing a spacewalker to return to the station in the unlikely event they became untethered from the orbiting lab.
Roscosmos Flight Engineers Dmitri Petelin and Konstantin Borisov joined each other Thursday morning testing the lower body negative pressure suit that may help crew members readjust to Earth's gravity environment. Petelin also collected water samples from an Orlan spacesuit cooling system for testing. Borisov partnered with Commander Sergey Prokopyev and installed docking hardware on the Zvezda service module's aft port where the Roscosmos Progress 85 resupply ship is docked.
---
Learn more about station activities by following the space station blog, @space_station and @ISS_Research on X, as well as the ISS Facebook and ISS Instagram accounts.
Get weekly video highlights at: https://roundupreads.jsc.nasa.gov/videoupdate/
Get the latest from NASA delivered every week. Subscribe here: www.nasa.gov/subscribe