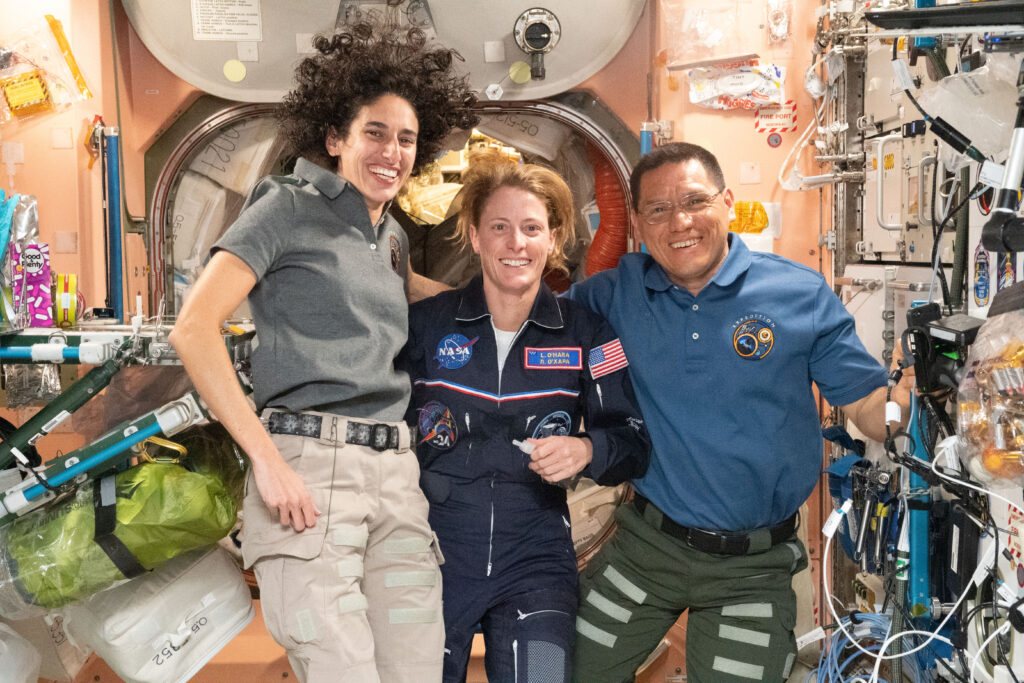 Friday sees a busy day for the Expedition 69 crew ahead of their off-duty weekend aboard the International Space Station. Preparing for upcoming crew departures and October spacewalks, health exams, and space gardening topped the ten crew members' research schedules today.
Flight Engineer Jasmin Moghbeli of NASA started her day with orbital plumbing and maintenance on the EXPRESS racks, payloads used for storing research experiments. After lunch, she continued station upkeep tasks, removing and troubleshooting lights and inspecting the station's cupola, or "window to the world." Later in the day, Moghbeli was joined once again by ESA (European Space Agency) astronaut Andreas Mogensen and JAXA (Japan Aerospace Exploration Agency) Flight Engineer Satoshi Furukawa for another round of eye exams.
Mogensen then moved into some space gardening, harvesting the final round of Arabidopsis plants, part of the Plant Habitat-03 investigation. The experiment aims to help researchers better understand how adaptations of plants in one generation could transfer to the next, given the environmental stress of the microgravity environment. Research as such provides an array of scientific data that can be applied on future space missions.
Ahead of eye exams, Furukawa spent his morning in the Kibo Laboratory Module, installing solid combustion into the Multipurpose Payload Rack, research of this magnitude helping improve fuel efficiency and fire safety both on orbit and on Earth.
Flight Engineer Loral O'Hara of NASA was joined by Mogensen and NASA astronaut Frank Rubio in the morning to replace batteries and install restraint straps and helmet lights to spacesuits in preparation for a round of U.S. spacewalks in October.
After spacesuit maintenance, Rubio was joined by Commander Sergey Prokopyev and Flight Engineer Dmitiri Petelin of Roscosmos to train on descent of the Soyuz spacecraft they'll take home in just a few short days. After spending over a year in space, the three long-serving residents will undock from the station's Prichal Module at 3:55 a.m. EDT on Wednesday, Sept. 27. Following a quick ride back home, they will land in Kazakhstan at 7:17 a.m.
The three other crew members of Roscosmos split up orbital duties today. Flight Engineer Konstantin Borisov conducted maintenance activities in the Nauka module, while Oleg Kononenko donned a sensor-packed cap to practice piloting techniques and explore how spacecraft can be controlled on future planetary missions as part of the ongoing Pilot-T investigation. Powered on earlier this week, the EarthKam—a digital camera mounted on the station that is remotely controlled by students to take photographs of Earth—was shut off and stowed for future use by Flight Engineer Nikolai Chub.
---
Learn more about station activities by following the space station blog, @space_station and @ISS_Research on X, as well as the ISS Facebook and ISS Instagram accounts.
Get weekly video highlights at: https://roundupreads.jsc.nasa.gov/videoupdate/
Get the latest from NASA delivered every week. Subscribe here: www.nasa.gov/subscribe