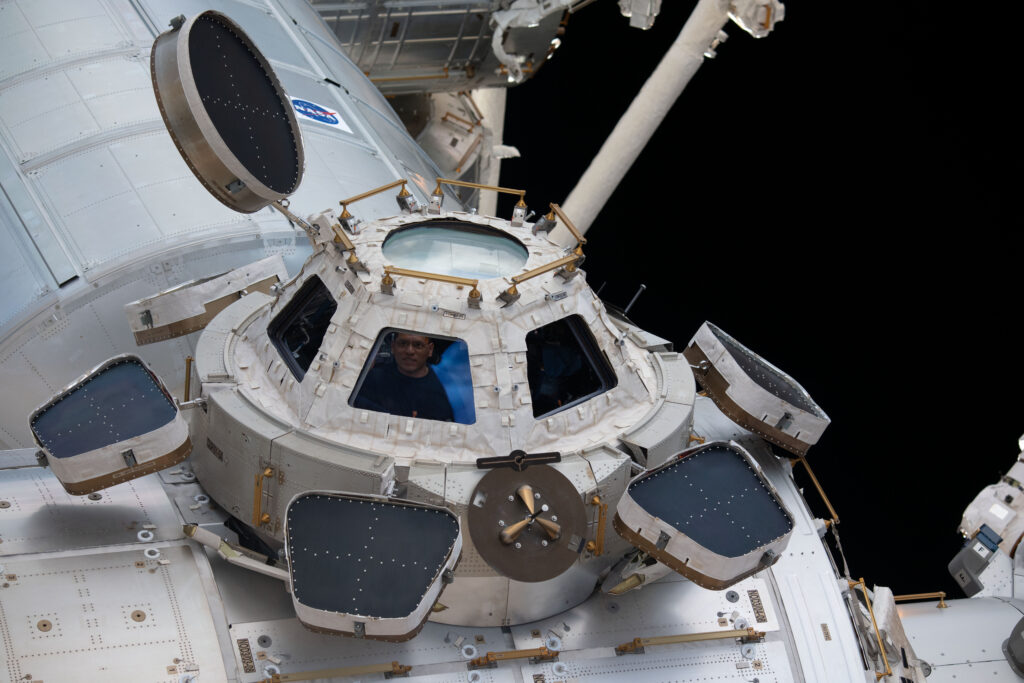 A change of command is underway aboard the International Space Station as three crew members are preparing to depart the orbiting laboratory in the early hours of Sept. 27 after spending 371 days in space.
NASA astronaut Frank Rubio is set to return home on Wednesday, Sept. 27 following a record-breaking mission on orbit. The hatch will close on the Soyuz MS-23 spacecraft at 12:20 a.m. EDT with Rubio and Roscosmos cosmonauts Sergey Prokopyev and Dmitri Petelin aboard. Following hatch closure, the spacecraft will undock from the Prichal module at 3:55 a.m., beginning the trio's short ride back to Earth and starting Expedition 70 for those still aboard the station. Rubio, Prokopyev, and Petelin will take a two-hour ride aboard Soyuz MS-23 before deorbit burn at 6:24 a.m. and landing around 7:17 a.m. in Kazakhstan.
Rubio, now the record-holder for the longest single spaceflight by a U.S. astronaut, launched to the station on Sept. 21, 2022. His year-long mission was comprised of dozens of scientific investigations and technology demonstrations including testing new space gardening techniques, taking on a space-based diet packed with nutrients, 3D printing knee cartilage tissue, and more.
As three crew members are nearing the end of their mission, the other seven orbital residents stayed busy with an array of microgravity tasks. Now Expedition 70 Commander, Andreas Mogensen of ESA (European Space Agency) worked with the food processor he installed last week. Mogensen made another batch of chocolate mousse in the morning, later taste-testing it in the evening.
Two first-time station Flight Engineers Loral O'Hara and Jasmin Moghbeli of NASA worked in tandem to remove and replace the science module and heat exchanger from the Cold Atom Lab that Moghbeli prepped for repairs yesterday. Meanwhile, Flight Engineer Satoshi Furukawa of JAXA (Japan Aerospace Exploration Agency) conducted maintenance in the Japanese Experiment Module.
Flight Engineers Konstantin Borisov and Nikolai Chub of Roscosmos also worked in tandem on Tuesday to take documentary-style photos and videos of life aboard the station, while Flight Engineer Oleg Kononenko, also of Roscosmos, continued crew orientation tasks following his arrival to the station on Sept. 15.
---
Learn more about station activities by following the space station blog, @space_station and @ISS_Research on X, as well as the ISS Facebook and ISS Instagram accounts.
Get weekly video highlights at: https://roundupreads.jsc.nasa.gov/videoupdate/
Get the latest from NASA delivered every week. Subscribe here: www.nasa.gov/subscribe