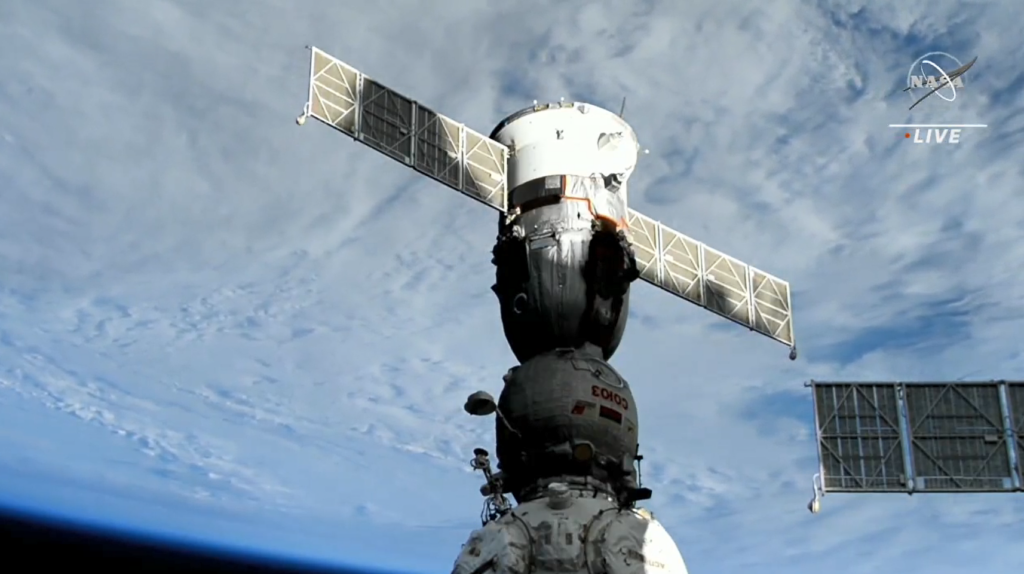 NASA Television coverage of NASA astronaut Frank Rubio and two Roscosmos cosmonauts' departure from the International Space Station is underway.
Rubio, along with Sergey Prokopyev and Dmitri Petelin, closed the hatch to the Roscosmos Soyuz MS-23 spacecraft about 12:41 a.m. EDT. The Soyuz spacecraft will undock at 3:54 a.m. from the Prichal module, heading for a parachute-assisted landing at 7:17 a.m. (5:17 p.m. Kazakhstan time) on the steppe of Kazakhstan, southeast of the remote town of Dzhezkazgan.
Rubio arrived at the International Space Station on Sept. 21, 2022, spending 371 days in low Earth orbit, and breaking the previous American record held by NASA astronaut Mark Vande Hei by 16 days.
While clocking the single longest spaceflight by a NASA astronaut, Rubio has contributed to dozens of scientific studies.
Rubio helped nurture and monitor vegetables harvested with the space station's Vegetable Production System, or Veggie. The Veggie study evaluates protocols for growing produce in space, and whether plants grown in microgravity can help satisfy the dietary needs of astronauts on more distant spaceflight missions.
In addition, Rubio provided biological samples, completed surveys, and performed tests for a study that collects a core set of measurements from astronauts, called Spaceflight Standard Measures. The measurements serve as a baseline for how multiple systems in the body react to spaceflight, from human cognition to the immune system. Other biological samples will be frozen and archived for future life science studies.
Rubio also became the first astronaut to participate in a study examining how exercising with limited gym equipment affects the human body. Recognizing that crew members traveling to the Moon and elsewhere will not have enough room in their spacecraft for a treadmill, researchers are eager to determine whether other exercise regimens could keep crews healthy on long missions. So rather than running on the space station's treadmill, Rubio exercised only on the space station's bicycle and weightlifting machine.
At the time of undocking, Expedition 70 will formally begin aboard the station with NASA astronauts Loral O'Hara and Jasmin Moghbeli, ESA (European Space Agency) astronaut and new station commander Andreas Mogensen, JAXA (Japan Aerospace Exploration Agency) astronaut Satoshi Furukawa and Roscosmos cosmonauts Oleg Kononenko, Nikolai Chub, and Konstantin Borisov.
---
Learn more about station activities by following the space station blog, @space_station and @ISS_Research on X, as well as the ISS Facebook and ISS Instagram accounts.
Get weekly video highlights at: https://roundupreads.jsc.nasa.gov/videoupdate/
Get the latest from NASA delivered every week. Subscribe here: www.nasa.gov/subscribe