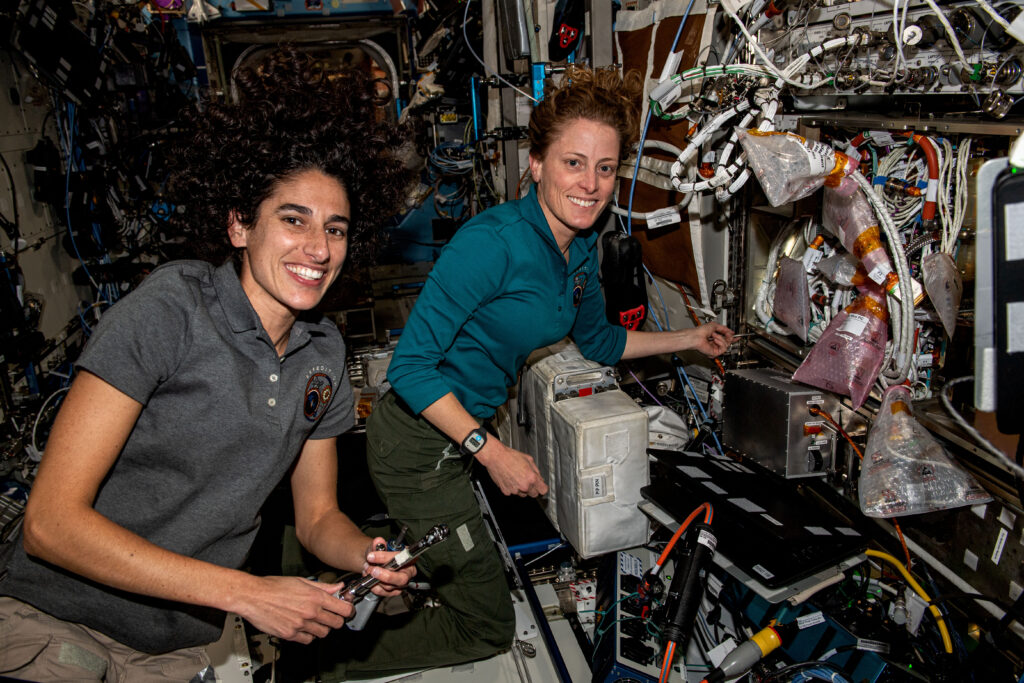 The Expedition 70 crew members kept busy Friday as they look ahead to an off-duty weekend. The International Space Station is back to seven residents after one NASA astronaut and two Roscosmos cosmonauts departed early Wednesday morning. The seven members spent time today preparing spacesuits for upcoming spacewalks and closing out maintenance procedures they began earlier this week.
Commander Andreas Mogensen of ESA (European Space Agency) and Flight Engineer Loral O'Hara of NASA both worked on spacesuit preparations ahead of a round of spacewalks that will take place in October. Working separately, O'Hara recharged spacesuit water tanks while Mogensen scrubbed water from cooling loops inside the suits.
Flight Engineer Jasmin Moghbeli of NASA spent the majority of this week removing and replacing components of the Cold Atom Lab (CAL), which chills clouds of atoms to temps near absolute zero, allowing crew members to study their fundamental behavior, a task that is much more difficult to probe at higher temps. Today, she wrapped up maintenance work on CAL, completing the installation of the science module and re-mating power and data connections.
After lunch, Moghbeli worked with Flight Engineer Satoshi Furukawa of JAXA (Japan Aerospace Exploration Agency) in the Kibo Laboratory. The duo removed sample carriers on MISSE, which analyzes how exposure to space affects the performance and durability of materials and components such as paints, fabrics, seals, and solar cell technologies. The samples were then stowed for future analysis on Earth. Afterward, Furukawa removed and replaced the filter on the station's Potable Water Dispenser, a system that provides water for crew consumption and food preparation.
Following yesterday's off-duty day, the three Roscosmos Flight Engineers were back to orbital tasks today. Konstantin Borisov worked in the Nauka module conducting maintenance, while Nikolai Chub ran the 3D printer in the Zvezda module. He then moved on to work in Nauka with Oleg Kononenko to install and connect cables to a water processing system. Kononenko also spent part of the day preparing for an upcoming experiment that studies transport properties of complex plasmas.
Ahead of the weekend, the space station is orbiting slightly higher after the 85P fired its engines for 6 minutes and 22 seconds Friday morning. The orbital reboost sets up the correct phasing for the ISS Progress 86 resupply mission later this year.
---
Learn more about station activities by following the space station blog, @space_station and @ISS_Research on X, as well as the ISS Facebook and ISS Instagram accounts.
Get weekly video highlights at: https://roundupreads.jsc.nasa.gov/videoupdate/
Get the latest from NASA delivered every week. Subscribe here: www.nasa.gov/subscribe