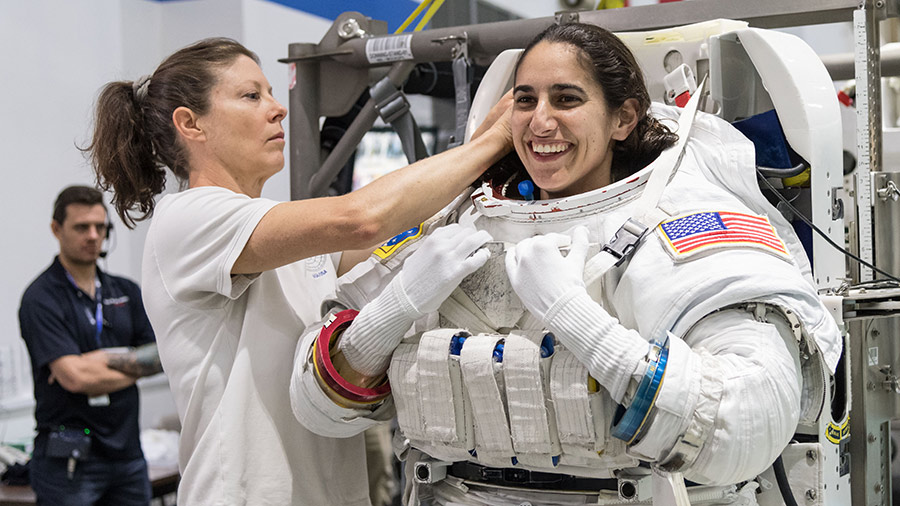 Spacewalk preparations and exercise gear maintenance were the primary tasks for the Expedition 70 crew aboard the International Space Station on Tuesday. Hearing tests and a variety of science and hardware tasks rounded out the day's plan for the orbital crewmates.
Three astronauts are stepping up preparations for a pair of spacewalks planned this month for science and maintenance. Both spacewalks, planned for Oct. 12 and 20, will be broadcast live on NASA TV, on the agency's app, and website.
The first spacewalk will see ESA (European Space Agency) Commander Andreas Mogensen and NASA Flight Engineer Loral O'Hara swabbing external station surfaces for microbes. They will carefully collect microbe samples from specific areas on the station using specialized tools. The samples will later be analyzed to determine the types of microbes that may survive in the vacuum of space. This will be the first spacewalk for both astronauts.
The second spacewalk will be with O'Hara going out once again, but this time with NASA Flight Engineer Jasmin Moghbeli who is going on her first spacewalk. The duo will remove faulty radio communications gear and install new solar array hardware during the six-and-half-hour excursion.
Moghbeli tried on her spacesuit on Tuesday afternoon and tested its ability to communicate with mission controllers on the ground. JAXA (Japan Aerospace Exploration Agency) astronaut Satoshi Furukawa and Mogensen both assisted Moghbeli in the Quest airlock as she ensured her spacesuit was in operable condition.
Furukawa began his day with O'Hara inside the Destiny laboratory module replacing the orbital lab's exercise cycle. The duo spent the morning uninstalling the workout hardware, updating its components, installing the new cycle, then activating the new aerobic and cardiovascular gear.
At the end of the day, O'Hara took turns with Roscosmos Flight Engineers Nikolai Chub and Oleg Kononenko to conduct a hearing test. Chub earlier installed a variety of cameras to monitor Earth's upper atmosphere as well as accurately predict the station's location in space. Kononenko and cosmonaut Konstantin Borisov would spend most of their day servicing a variety of Roscosmos hardware. The pair worked throughout the orbital lab working on electronics, communications, and life support gear.
---
Learn more about station activities by following the space station blog, @space_station and @ISS_Research on X, as well as the ISS Facebook and ISS Instagram accounts.
Get weekly video highlights at: https://roundupreads.jsc.nasa.gov/videoupdate/
Get the latest from NASA delivered every week. Subscribe here: www.nasa.gov/subscribe