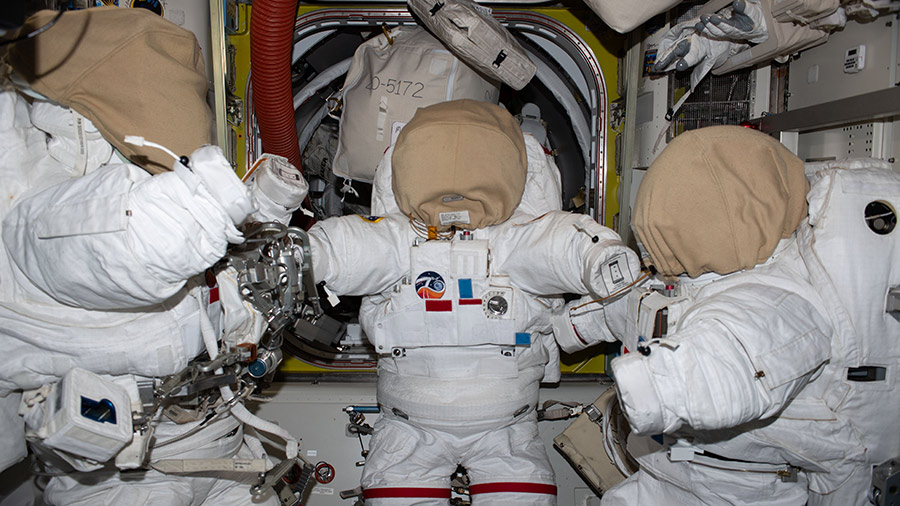 Spacewalk preparations and ongoing human research kept the Expedition 70 crew busy at the end of the week. Meanwhile, two cosmonauts continued cleaning up after completing a spacewalk at the International Space Station in the middle of the week.
NASA astronauts Loral O'Hara and Jasmin Moghbeli are scheduled to exit the Quest airlock on Nov. 1 for a six-and-half-hour maintenance spacewalk on the orbital lab. The duo will remove an electronics box called the Radio Frequency Group that was part of a communications antenna system. They also will replace one of 12 trundle bearing assemblies on the station's port solar alpha rotary joint. The bearings enable the station's solar arrays to track the Sun.
The duo started Friday morning organizing their spacewalking tools in Quest. In the afternoon, both astronauts tested the functionality of their spacesuit helmets, cameras, and other suit components. Moghbeli also printed checklists to be attached to spacesuit cuffs and verified the power capacity of the spacesuit jetpacks.
O'Hara spent the middle of Friday working with doctors on the ground for the CIPHER human research study. She scanned her arteries for the cardiovascular portion of the investigation that is composed of 14 medical studies. The experiment seeks to observe the psychological and physiological changes crew members will go through while living in space and farther away from Earth.
Flight Engineer Satoshi Furukawa of JAXA (Japan Aerospace Exploration Agency) began his day assisting O'Hara and Moghbeli when they were configuring their spacewalk tools. Afterward, he worked in the Kibo laboratory module setting up airlock hardware. He wrapped up his day replacing avionics gear inside the Destiny laboratory module. Commander Andreas Mogensen of ESA (European Space Agency) cleared his schedule on Friday exercising during the morning and relaxing the rest of the day.
Cosmonauts Oleg Kononenko and Nikolai Chub spent Friday on standard post-spacewalk activities. The duo cleaned their Orlan spacesuits and uninstalled their suits' batteries, lights, and tethers. They also reconfigured the Poisk airlock and called down to Roscosmos mission controllers for a post-spacewalk conference.
Roscosmos Flight Engineer Konstantin Borisov collected air samples from Poisk for analysis then downloaded radiation data collected from sensors on the spacewalkers' Orlan spacesuits. In the afternoon, he practiced spacecraft and robotic piloting techniques on a computer that may inform how crew members operate on future planetary missions.