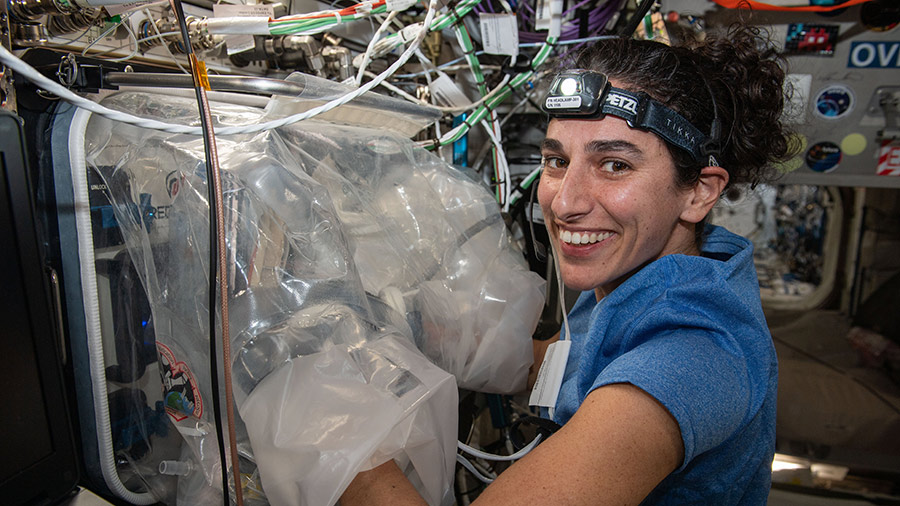 The Expedition 70 crew members turned their attention toward robotics and physics research today while continuing ongoing space biology studies. The orbital septet also will soon welcome a cargo craft due to launch to the International Space Station early Friday.
NASA Flight Engineer Jasmin Moghbeli turned on the Astrobee robotic free-flyers Thursday morning for a technology demonstration inside the Kibo laboratory module. In the afternoon, she installed components called CLINGERS on the Astrobees and monitored the cube-shaped robotic devices as they conducted docking maneuvers. The experiment seeks to prove new technology that may enable future satellites to rendezvous, dock, and undock autonomously.
Astronaut Satoshi Furukawa also worked in the Kibo lab swapping samples inside the Electrostatic Levitation Furnace. The high-temperature research facility allows safe observations of thermophysical properties such as density surface tension, and viscosity of materials difficult to achieve on Earth. Furukawa from JAXA (Japan Aerospace Exploration Agency) then worked in the afternoon setting up the new uTitan investigation in Kibo's Life Science Glovebox to explore a method for extracting DNA samples in microgravity.
A variety of space biology investigations were also underway aboard the station seeking to improve life on Earth and in space. NASA Flight Engineer Loral O'Hara kicked off her day configuring the Advanced Plant Habitat for an upcoming botany study to explore how the plant immune system is affected by spaceflight conditions. Commander Andreas Mogensen peered at brain cell-like samples in a microscope for the Cerebral Aging study seeking a deeper understanding of ageing processes and neurodegenerative conditions.  Afterward, Mogensen from ESA (European Space Agency) printed cardiac cells using the BioFabrication Facility that is demonstrating printing organ-like tissues in microgravity.
Back on Earth at the Baikonur Cosmodrome in Kazakhstan, the Roscosmos Progress 86 resupply ship stands ready to launch to the orbital outpost at 4:25 a.m. EST on Friday. The Progress 86 will orbit Earth for two days before docking to the station's Poisk module at 6:14 a.m. on Sunday. Cosmonauts Oleg Kononenko and Nikolai Chub will be on duty monitoring the resupply ship's arrival and ready to unpack the nearly 5,600 pounds of cargo a few hours later.
Kononenko remained focus on research Thursday activating a 3D printer to learn how to print tools and supplies promoting self-sufficient crews in space. Chub studied how microgravity affects fluid systems then tested futuristic spacecraft and robotic piloting techniques on a computer. Cosmonaut Konstantin Borisov serviced ventilation systems in the Zvezda service module, loaded software on computer tablets, then wrapped up his shift deactivating Earth observation hardware.
---
Learn more about station activities by following the space station blog, @space_station and @ISS_Research on X, as well as the ISS Facebook and ISS Instagram accounts.
Get weekly video highlights at: https://roundupreads.jsc.nasa.gov/videoupdate/
Get the latest from NASA delivered every week. Subscribe here: www.nasa.gov/subscribe
---
Learn more about station activities by following the space station blog, @space_station and @ISS_Research on X, as well as the ISS Facebook and ISS Instagram accounts.
Get weekly video highlights at: https://roundupreads.jsc.nasa.gov/videoupdate/
Get the latest from NASA delivered every week. Subscribe here: www.nasa.gov/subscribe