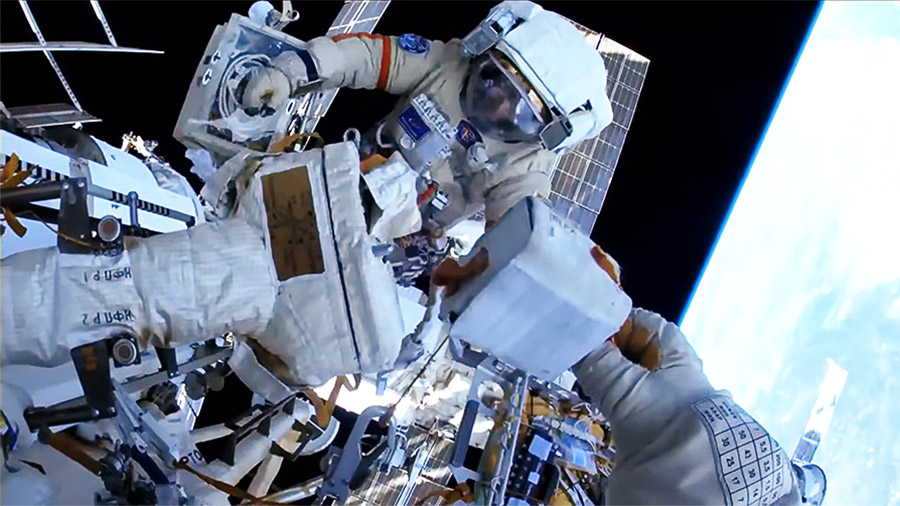 Human research and fluid physics were the main science experiments taking place aboard the International Space Station on Wednesday for four Expedition 69 astronauts. The three cosmonauts aboard the orbital outpost slept in following an overnight spacewalk to move and install hardware.
The latest space biology experiment taking place on the station explores how living long-term in weightlessness affects an astronaut's eyes and brain. The lack of gravity causes blood and cerebrospinal fluid to shift toward the head creating ocular and cranial pressure. NASA astronauts Stephen Bowen and Woody Hoburg studied that phenomena Wednesday morning and ways to offset the space-caused symptoms by collecting their blood pressure measurements and scanning their chests with the Ultrasound 2 device for the ISAFE investigation.
Afterward, Bowen peered at biological samples inside the Confocal Microscope testing its operations using fluorescence imaging techniques. Hoburg joined UAE (United Arab Emirates) Flight Engineer Sultan Alneyadi setting up hardware to kick off the CapiSorb Visible Systems fluid physics study. That experiment investigates the potential of using a liquid-based carbon dioxide removal system to promote more efficient space-based solutions and advanced Earth-bound applications.
The three astronauts, together with NASA Flight Engineer Frank Rubio, also spent a portion of Wednesday afternoon reviewing procedures and practicing robotic maneuvers for a spacewalk planned for April 28. Bowen and Alneyadi are scheduled to spend about six-and-a-half hours in the vacuum of space upgrading the orbital outpost's power generation system. Space station managers will discuss the upcoming spacewalk live on NASA TV's app and the agency's website at 2 p.m. EDT on Monday.
The third spacewalk of the year was completed overnight after Commander Sergey Prokopyev and Flight Engineer Dmitri Petelin installed a radiator on the Nauka science module. The duo wrapped up the seven-hour and 55-minute logistics spacewalk at 5:35 a.m. on Wednesday, with assistance from Roscosmos Flight Engineer Andrey Fedyaev who operated the European robotic arm (ERA) with the radiator in its grip.
The trio from Roscosmos will have a long sleep period before returning to a normal shift on Thursday. Prokopyev and Petelin will then spend the day cleaning their Orlan spacesuits and stowing their spacewalking tools in the Poisk module. Fedyaev will return the ERA to its stowage position on Nauka then power it down.
---
Learn more about station activities by following the space station blog, @space_station and @ISS_Research on Twitter, as well as the ISS Facebook and ISS Instagram accounts.
Get weekly video highlights at: https://roundupreads.jsc.nasa.gov/videoupdate/
Get the latest from NASA delivered every week. Subscribe here: www.nasa.gov/subscribe