Expedition 43 Commander Terry Virts of NASA, Samantha Cristoforetti of ESA and Anton Shkaplerov of Roscosmos landed their Soyuz TMA-15M spacecraft in Kazakhstan at 9:44 a.m. EDT. Russian recovery teams will help the crew exit the Soyuz vehicle and adjust to gravity after their stay in space.
The trio arrived at the International Space Station on Nov. 24, 2014, and spent more than six months conducting research and technology demonstrations. Virts, Cristoforetti and Shkaplerov spent 199 days aboard the space station and clocked almost 84 million miles during their time in space.
Virts has logged 212 days in space on two flights, the first of which was on space shuttle mission STS-130 in 2010. Shkaplerov has spent 364 days in space on two flights, the first of which was on Expedition 29/30 in 2011. This was Cristoforetti's first flight into space.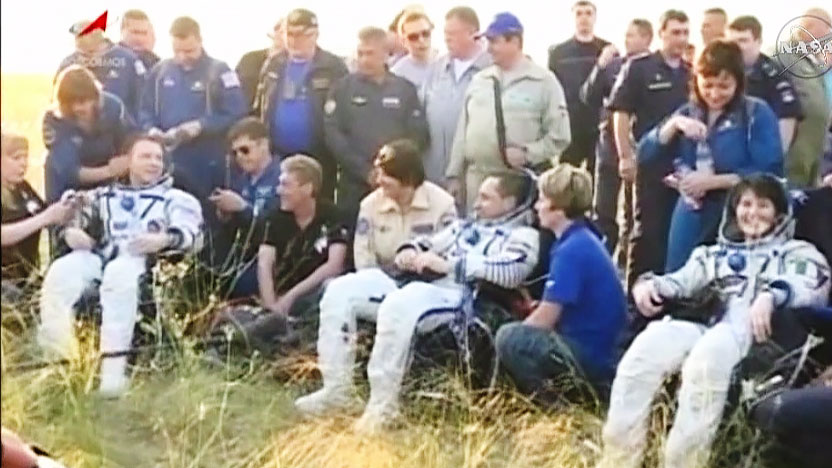 The station now is occupied by Expedition 44 Commander Gennady Padalka of the Russian Federal Space Agency (Roscosmos), Flight Engineer Scott Kelly of NASA and Mikhail Kornienko of Roscosmos. Kelly and Kornienko are two and half months into their year aboard the complex collecting valuable biomedical data that will inform future deep space, long-duration missions.
The remainder of the Expedition 44 crew, NASA astronaut Kjell Lindgren, Russian cosmonaut Oleg Kononenko and Kimiya Yui of the Japan Aerospace Exploration Agency, is scheduled to launch from Baikonur, Kazakhstan, in late July.
Some items returning on this Soyuz were used as part of research investigations aboard the International Space Station. Equipment that supports various studies which use dosimeters will return with the crew. Dosimeters are devices that measure radiation. Several investigations employ the dosimeters to gather information about space radiation to help manage exposure and provide protection to crew members.
Both the Area Passive Dosimeter for Life-Science Experiments in Space (Area PADLES) and the Dosimetric Mapping (DOSMAP) investigations aboard the space station help researchers collect data to design radiation monitoring equipment for astronauts. This knowledge may improve design for spacecraft structures that shield internal occupants from radiation. Scientists also may use the data to develop protection devices for people who work in medical or industrial areas with potential radiation exposure.
Samples from the ongoing Study of the Impact of Long-Term Space Travel on the Astronauts' Microbiome investigation also will return. The Microbiome study looks at the impact of space travel on the immune system and on human microbiomes – microbes living in and on the human body at any given time. Samples from crew members' bodies and the space station environment are taken periodically to monitor changes in the immune system and microbiomes. The results of this study may add to research on health impacts to people who live and work in extreme environments on Earth, and help with research on early disease detection, metabolic function and immune system deficiency.