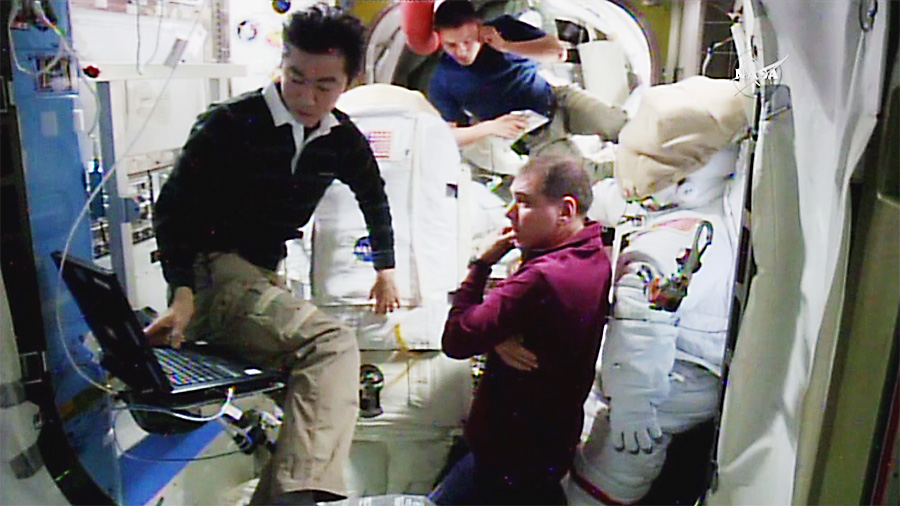 The International Space Station crew is gearing up for a couple of spacewalks to service and upgrade the orbital laboratory. Meanwhile, the crew is also working long-term life science to improve life on Earth and in future space crews.
The U.S. Quest airlock is getting busy as NASA astronauts Scott Kelly and Kjell Lindgren get their spacesuits and tools ready for a pair of spacewalks set for Oct. 28 and Nov. 26. They are checking their suit electronics and safety systems and also building custom tools.
The first spacewalk is set to last six-hours and 30-minutes after Kelly and Lindgren set their spacesuits to battery power. The duo will exit Quest to place a thermal cover over a dark matter detection experiment, lubricate the 57.7 foot Canadarm2 robotic and route power cables for a future docking port.
The entire crew still continued the work of on-orbit science, the primary purpose of the space station. Cosmonaut Mikhail Kornienko, along with Kelly and Lindgren performed cardiac scans with an ultrasound for the Ocular Health study. Japanese astronaut Kimiya Yui set up a mouse habitat inside the Cell Biology Experiment Facility.