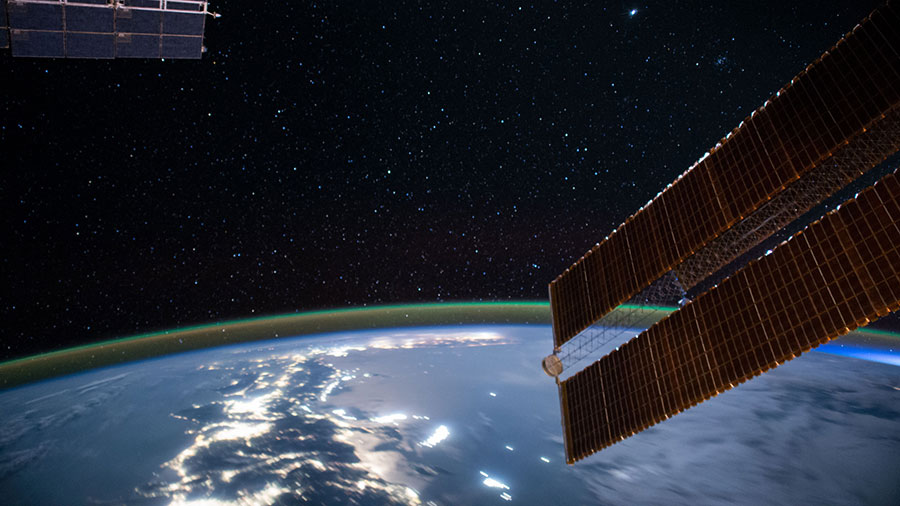 The International Space Station got an orbital boost this morning after a docked Russian resupply craft fired its engines for four minutes and eight seconds. One more reboost is scheduled for July 10 when the station will be at the proper altitude for a new Soyuz crew to dock at the end of July.
The crew onboard the orbital laboratory conducted a wide array of experiments today looking at such things as radiation, liquid crystals and life science. The trio of station residents also continued more eye checks with assistance from specialists on the ground.
One-Year crew member Mikhail Kornienko participated in the Matroyshka and RADI-N studies monitoring space radiation and exploring how it affects station crew members. Commander Gennady Padalka explored the behavior of liquid crystals in microgravity for the OASIS experiment with results potentially benefitting future space helmets with small display screens. NASA astronaut Scott Kelly worked in the Microgravity Science Glovebox cleaning up after earlier work with the Rodent Research study.
NASA astronaut Kjell Lindgren, Japanese astronaut Kimiya Yui and Roscosmos cosmonaut Oleg Kononenko are the next crew preparing to launch to the space station and join Expedition 44. Their launch aboard a Soyuz TMA-17M spacecraft is planned for July 22 when they will take a six-hour ride to their new home in space.