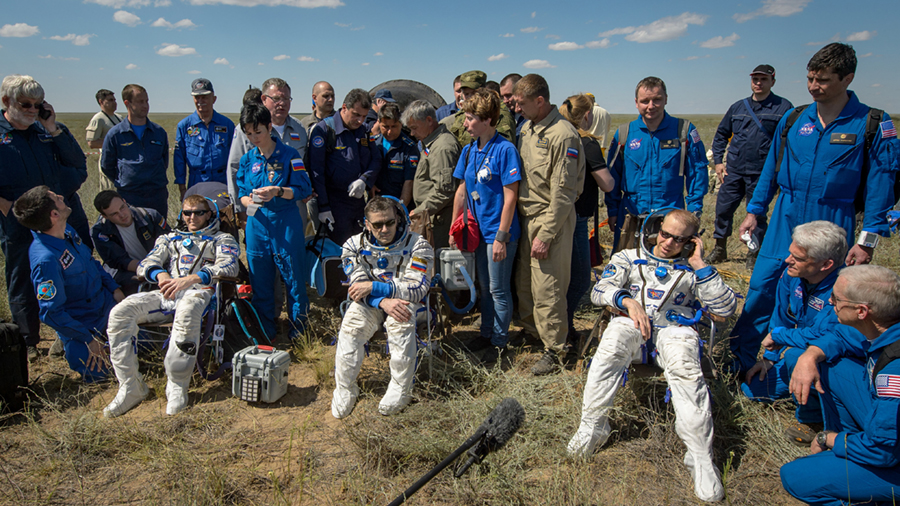 Expedition 48 officially began Saturday morning with Commander Jeff Williams and Flight Engineers Oleg Skripochka and Alexey Ovchinin continuing their stay aboard the International Space Station. They await the addition of three new crew members who will launch July 6 for a two-day ride to their new home in space.
Expedition 47 completed 186 days in space Saturday after landing in Kazakhstan. NASA astronaut Tim Kopra returned home to Houston the following day. European Space Agency astronaut Tim Peake flew to Cologne, Germany, to begin his reconditioning. Cosmonaut Yuri Malenchenko returned to Russia after completing his sixth mission to space.
Despite the weekend's landing activities, science continues around the clock on the orbital laboratory. The crew is exploring how living in space affects the immune system and collected and stowed biological samples today for the Multi-Omics study. The crew is also setting up hardware for the NeuroMapping experiment. That study will research how spaceflight changes an astronaut's brain and associated activities such as function, motor control, and multi-tasking abilities.
The next crew launch to the space station includes cosmonaut Anatoly Ivanishin, NASA astronaut Kate Rubins and Japanese astronaut Takuya Onishi. They will join Expedition 48 when their Soyuz MS-01 spacecraft docks to the Rassvet module July 8.