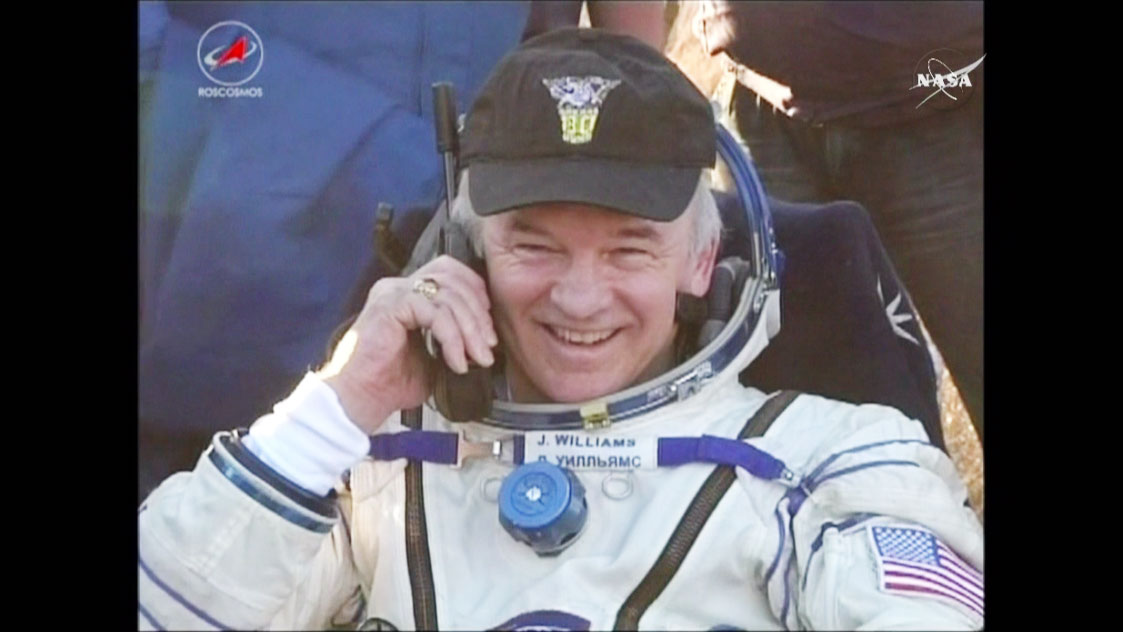 NASA astronaut Jeff Williams and cosmonauts Alexey Ovchinin and Oleg Skripochka of Roscosmos landed their Soyuz TMA-20M spacecraft in Kazakhstan at 9:13 p.m. EDT. Russian recovery teams are helping the crew exit the Soyuz spacecraft and adjust to gravity after their stay in space. The trio will be transported by helicopter to Karaganda where they will split up, with Williams returning to Houston in a NASA jet, while Ovchinin and Skripochka are flown back to their training base at Star City, Russia.
Williams was instrumental in preparing the station for the future arrival of U.S. commercial crew spacecraft. The first International Docking Adapter was installed during a spacewalk by Williams and fellow NASA astronaut Kate Rubins Aug. 19. Outfitted with a host of sensors and systems, the adapter's main purpose is to connect spacecraft bringing astronauts to the station in the future. Its first users are expected to be Boeing's CST-100 Starliner and SpaceX's Crew Dragon spacecraft, now in development in partnership with NASA.
During his time on the orbital complex, Williams ventured outside the confines of the space station for a second spacewalk with Rubins to retract a spare thermal control radiator and install two new high-definition cameras.
Together, the Expedition 48 crew members contributed to hundreds of experiments in biology, biotechnology, physical science and Earth science aboard humanity's only orbiting laboratory.
The crew members also welcomed five cargo spacecraft during their stay. Williams was involved in the grapple of Orbital ATK's Cygnus spacecraft in March, the company's fourth commercial resupply mission, and SpaceX's eighth Dragon spacecraft cargo delivery in April, and welcomed a second Dragon delivery in July. Two Russian ISS Progress cargo craft also docked to the station in April and July delivering tons of supplies.
The Expedition 48 trio launched to the space station in March 2016. With the conclusion of his fourth trip to the International Space Station, Williams has accrued 534 days in space, the most by any U.S. astronaut in history.
Expedition 49 continues operating the station with Anatoly Ivanishin of Roscosmos in command. He, Rubins, and Takuya Onishi of the Japan Aerospace Exploration Agency, will operate the station for more than two weeks until the arrival of three new crew members.
Shane Kimbrough of NASA and cosmonauts Sergey Ryzhikov and Andrey Borisenko of Roscosmos are scheduled to launch Sept. 23, U.S. time, from Baikonur, Kazakhstan.
Keep up with the International Space Station, and its research and crew members, at:
Get breaking news, images, videos and features from the station on social media at:
https://www.facebook.com/ISS
http://instagram.com/iss
http://www.twitter.com/Space_Station