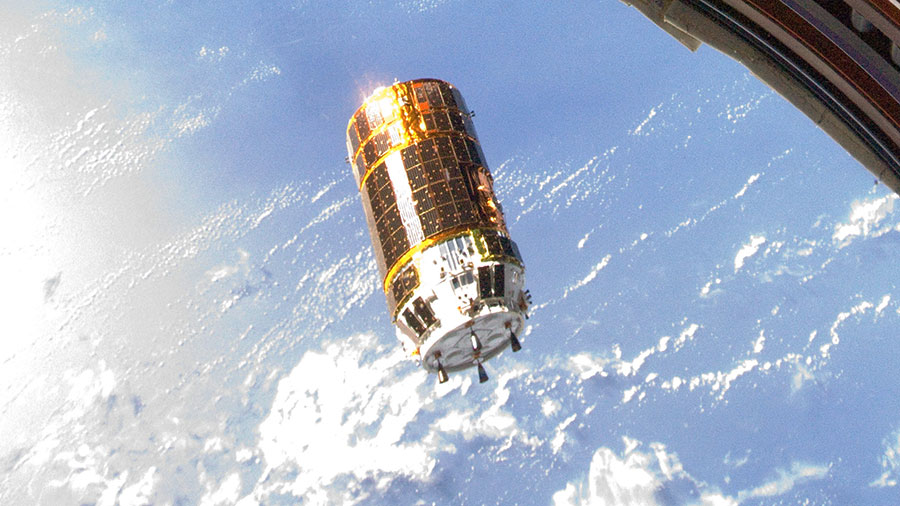 A Japanese Aerospace Exploration Agency (JAXA) cargo spacecraft is set to arrive at the International Space Station early Tuesday morning. NASA TV coverage will begin at 4:30 a.m. EST at https://www.nasa.gov/nasatv. Capture is scheduled around 6 a.m. Coverage of the final installation to Harmony will resume at 9:15 a.m.
The HTV-6 is loaded with more than 4.5 tons of supplies, water, spare parts and experiment hardware for the six-person station crew will approach the station from below, and is slowly inching its way toward the complex. Expedition 50 Commander Shane Kimbrough of NASA and Flight Engineer Thomas Pesquet of ESA (European Space Agency) will operate the station's Canadarm2 robotic arm from the station's cupola to reach out and grapple the 12-ton spacecraft.
Robotic ground controllers will then install it on the Earth-facing side of the Harmony module, where it will spend more than five weeks. Flight Engineer Peggy Whitson of NASA will monitor HTV-6 systems during the rendezvous and grapple.
The cargo spacecraft launched on an H-IIB rocket at 8:26 a.m. EST (10:26 p.m. Japan time) on Friday, Dec. 9 from the Tanegashima Space Center in southern Japan.
Join the conversation on Twitter by following @Space_Station. To learn more about all the ways to connect and collaborate with NASA, visit: https://www.nasa.gov/connect
For more information on previous HTV missions from JAXA to the space station visit:
---
Get weekly video highlights at: http://jscfeatures.jsc.nasa.gov/videoupdate/