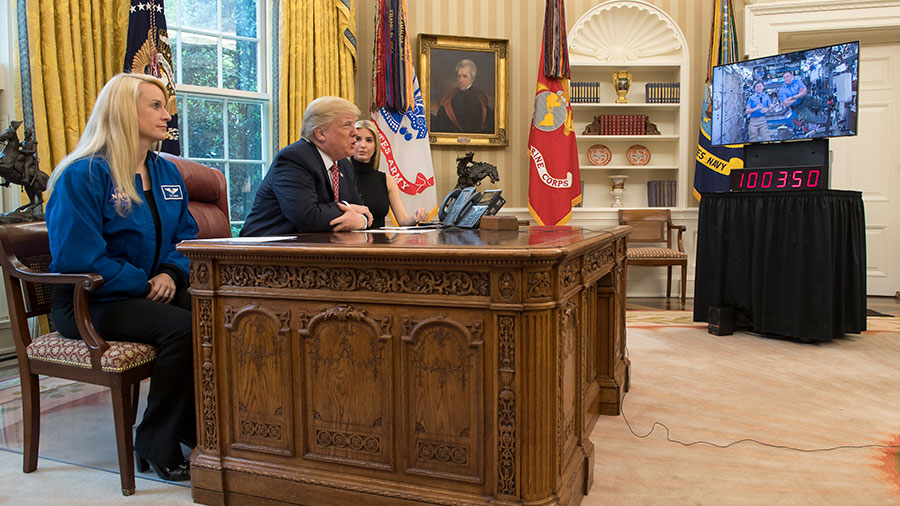 Expedition 51 Commander Peggy Whitson broke the U.S. record today for most cumulative time living in space, surpassing astronaut Jeff Williams' record of 534 days set during his four spaceflights. She passed Williams' mark at 1:27 a.m. EDT.
President Donald Trump called the International Space Station Monday morning and congratulated Whitson on her record-breaking career. Whitson and her newest crewmate NASA astronaut Jack Fischer discussed NASA's research in space and its plans to go to Mars in the 2030's.
Before today's presidential call the Expedition 51 crew members joined together to review their roles and responsibilities in the unlikely event of an emergency aboard the International Space Station. If necessary, they could put on safety gear, evacuate the station into their docked Soyuz vehicles and quickly undock for a ride back to Earth.
The crew is also unloading gear today from two new spaceships that arrived last week. Veteran cosmonaut Fyodor Yurchikhin has been transferring cargo from the Soyuz MS-04 spacecraft he piloted to a docking last Thursday. Whitson and Flight Engineer Thomas Pesquet are working to offload new science experiments and crew supplies that arrived Saturday morning aboard the Cygnus resupply ship.
---
Get weekly video highlights at: http://jscfeatures.jsc.nasa.gov/videoupdate/