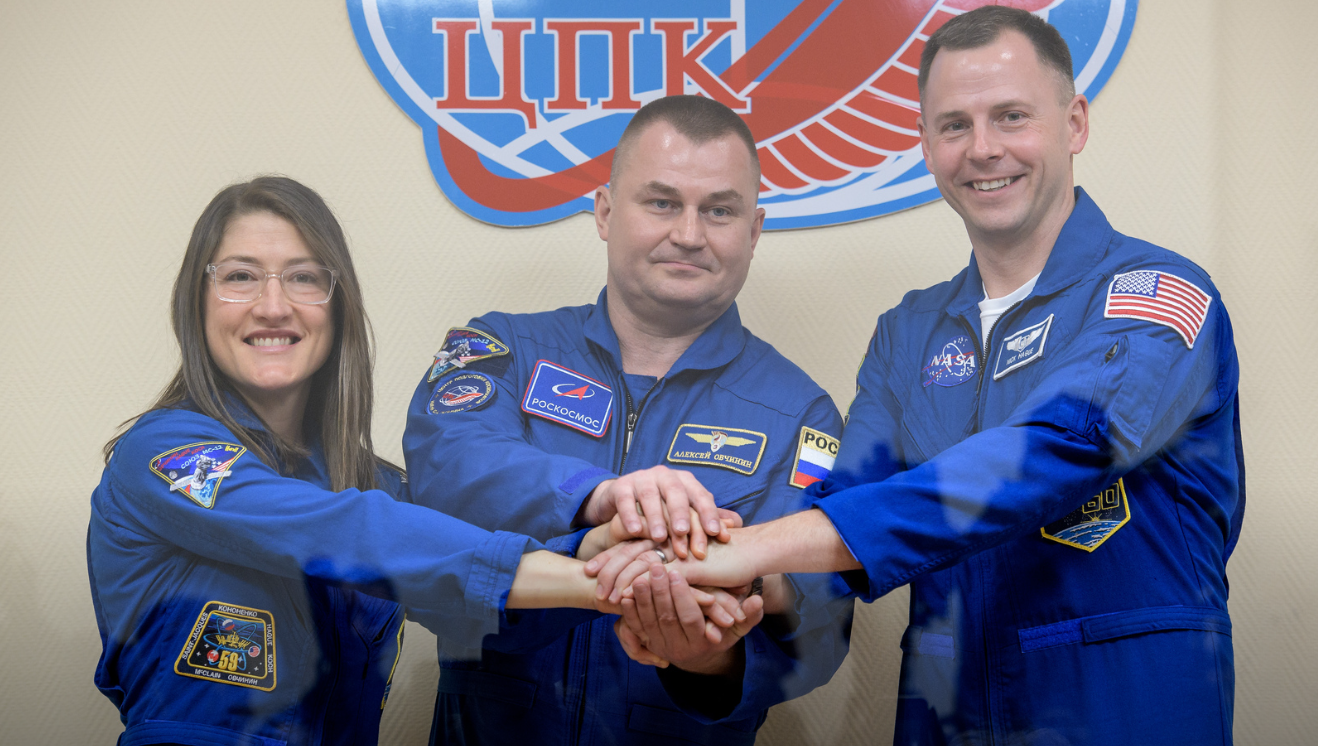 The last full day of Expedition 58—before the launch, docking and consolidation of crews to become Expedition 59—was mostly spent on housekeeping items for the continued, successful operation of the International Space Station.
NASA astronaut Anne McClain floated through the Tranquility and Zvezda service modules, deploying acoustic monitors. She paused in the U.S. lab at an EXPRESS rack to install communications gear and perform additional maintenance. David Saint-Jacques of the Canadian Space Agency also worked with EXPRESS today, moving Space Automated Bioproduct Labs from rack-1 to rack-2. This miniature laboratory within the larger orbiting laboratory supports life science research, hosting microorganisms (bacteria, yeast, algae, fungi, viruses, etc.), small organisms, animal cells, tissue cultures and small plants for evaluation in space.
Expedition Commander Oleg Kononenko of Roscosmos replaced fuel bottles on the Combustion Integrated Rack, which allows the crew members to conduct fluids and combustion studies in microgravity.
Today in Baikonur, Kazakhstan, NASA astronauts Nick Hague and Christina Koch, and cosmonaut Alexey Ovchinin of Roscosmos, were certified for flight by the Russian state commission and held their final news conference.
Tomorrow, the soon-to-be station residents will hitch a ride aboard a Soyuz MS-12 for blastoff at 3:14 p.m. EDT on, coincidentally, 3/14. After a relatively speedy six-hour flight, the Soyuz is expected to dock to station's Rassvet module at 9:07 p.m. Expedition 59 will begin officially at the time of docking.
The events will unfold live on NASA TV, with launch coverage beginning at 2 p.m. and docking coverage at 8:15 p.m., respectively. After a brief break, tune in at 10:30 p.m. for the hatch opening and welcome, which will return the orbiting laboratory's population to six—including three NASA astronauts. And, just in time for Women's History Month, this launch marks the fourth Expedition crew with two female astronauts.
Learn more about station activities by following @space_station and @ISS_Research on Twitter, as well as the ISS Facebook and ISS Instagram accounts.