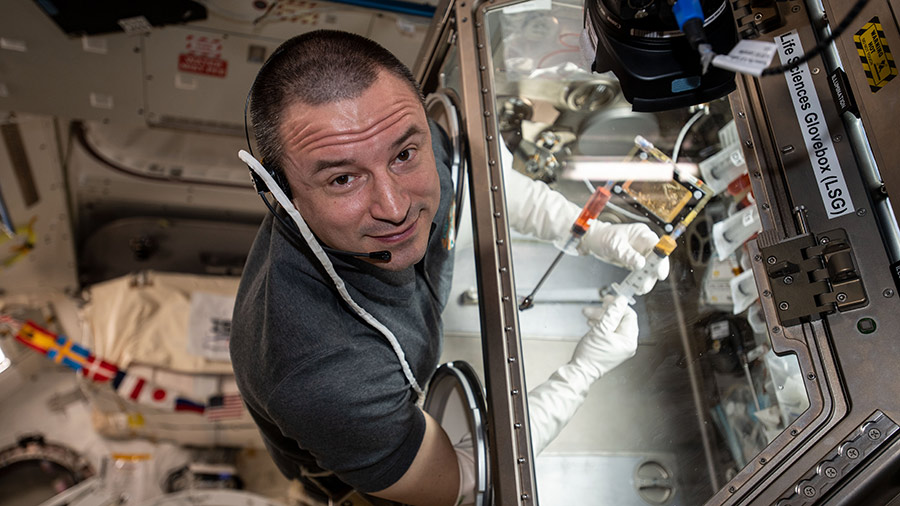 The Expedition 62 crew is running a host of human research and space biology studies today aboard the International Space Station. The orbiting lab is also ramping up for new science being delivered on an upcoming U.S. cargo mission.
A crewmember's bones and flow of body fluids are affected by the weightless environment of space. Besides daily exercise and diet, scientists are exploring ways to offset the detrimental effects and ensure long-term mission health and success. Insights from the ongoing experiments may also prove beneficial to humans on Earth.
NASA Flight Engineer Jessica Meir worked on the OsteoOmics-02 bone research hardware that has been in operation all week and serviced science freezers where biological samples are stowed. She also installed a carbon dioxide controller on an incubator that houses a variety of lifeforms such as microbes, animal cells and tissue cultures.
A common condition caused by living in space is called "puffy face." A crewmember's face becomes redder and rounder due to body fluids rising up as a symptom of weightlessness. NASA astronaut Andrew Morgan set up gear that measures the head pressure caused by this upward flow that has also been known to affect vision.
The SpaceX Dragon cargo craft is due to blast off toward the station on March 6 at 11:49 p.m. EST. It will arrive March 9 carrying about 5,600 pounds of cargo including live mice. Morgan installed hardware today that will house the rodents for the Mouse Habitat Unit-5 investigation from JAXA (Japan Aerospace Exploration Agency). He prepared the habitat specifically designed for the study and will attach it later to the upgraded Cell Biology Experiment Facility.
Commander Oleg Skripochka continued studying the physics of dust particles creating plasma crystals. The veteran cosmonaut also worked on orbital plumbing tasks before wrapping up a session that recorded his heart rate and blood pressure for 24 hours.