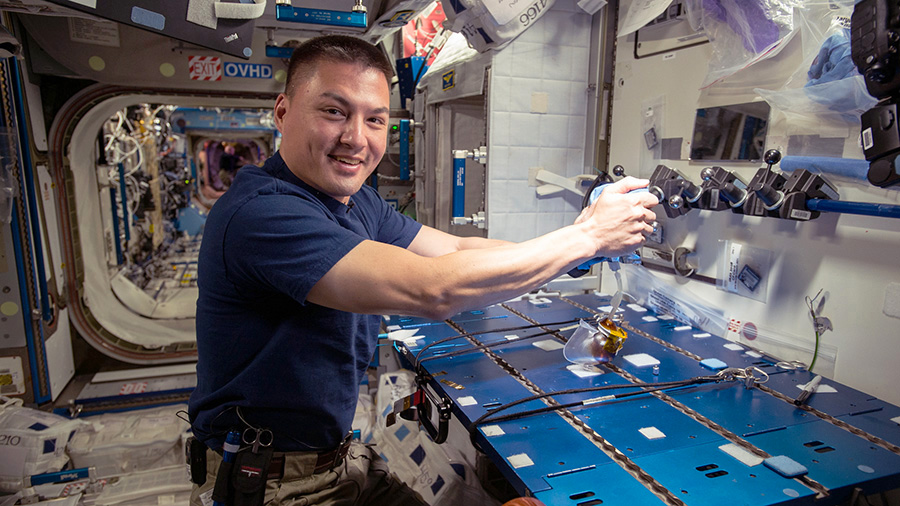 The six-member Expedition 45 crew focused on human research and physics Tuesday as NASA prepares for deep space missions and learns how to live in space for longer periods. Two astronauts are also getting ready for a pair of maintenance spacewalks beginning at the end of the month.
Commander Scott Kelly and Flight Engineer Kjell Lindgren teamed up in the morning for the Body Measures experiment, a study that explores how microgravity affects a crew member's body measurements over time. Lindgren then moved on to researching smart materials under magnetic conditions, potentially improving the design and strength of buildings and bridges on Earth. Kelly also explored how a long-term spaceflight influences spacecraft piloting abilities.
Japanese astronaut Kimiya Yui sampled the station's water quality, worked on life support maintenance and replaced cable ropes on an exercise device. Yui also swapped out gear on a pair of U.S. spacesuits that Kelly and Lindgren will wear on two upcoming spacewalks, the first on Oct. 28 and the second on Nov. 6.
Veteran cosmonauts Sergey Volkov and Oleg Kononenko worked on two different crystal experiments, one of which studies liquid crystals and another that explores crystal magnetism. One-Year crew member Mikhail Kornienko worked on Russian maintenance tasks and monitored his blood pressure and heartbeat. He also took his turn, along with Kononenko, on the same Pilot experiment Kelly participated in Tuesday.