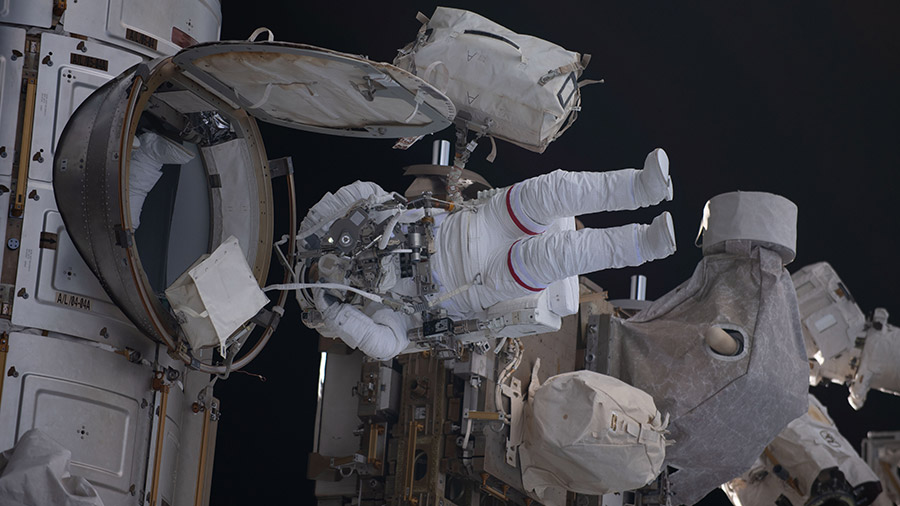 The seven Expedition 69 crew members are turning their attention to a pair of spacewalks and a cargo mission after saying goodbye to their Axiom Mission-2 (Ax-2) guests on Tuesday. Meanwhile, a pair of experiments onboard the International Space Station on Wednesday looked at monitoring health and 3D printing.
The four astronauts and three cosmonauts that comprise Expedition 69 are resuming their standard mission activities today following the departure of four Ax-2 astronauts. Next up in June for the orbital residents are a pair of spacewalks to upgrade the station's power generation system and a commercial resupply mission.
Mission managers will preview the upcoming power upgrade spacewalks during a news conference live on NASA TV at 12 p.m. EDT on Thursday. The first spacewalk will begin at 9:15 a.m. on June 9 with NASA Flight Engineers Stephen Bowen and Woody Hoburg. The duo will exit the Quest airlock in their Extravehicular Mobility Units (EMUs), or spacesuits, and install a new roll-out solar array on the orbital lab's starboard-side truss segment. The second spacewalk will take place on June 15 with a duo going back out in EMUs and installing another roll-out solar array on the starboard truss.
Bowen and Hoburg started Wednesday morning reviewing their spacewalk activities and cleaning spacesuit cooling loops. The pair then joined Flight Engineers Frank Rubio of NASA and Sultan Alneyadi of UAE (United Arab Emirates) in the afternoon for spacewalk training. The quartet logged into a computer and practiced the Canadarm2 robotic arm maneuvers necessary to support the solar array installation work planned for next Friday.
Both roll-out solar arrays are packed inside the trunk of the SpaceX Dragon cargo craft that is counting down to liftoff at 12:35 p.m. on Saturday from NASA's Kennedy Space Center. Dragon will arrive at the station for an automated docking to the Harmony module's space-facing port at 5:36 a.m. on Monday. The new solar arrays will be extracted from Dragon's trunk with the Canadarm2 two days before the first spacewalk begins and staged on a pallet attached to the starboard truss. Dragon is also carrying new experiments, food, supplies, and hardware to replenish the station crew.
Microgravity science is still continuing onboard the station while the crew gets ready for the upcoming cargo mission and spacewalks. Alneyadi put on the Bio-Monitor vest and headband at the end of the day testing their ability to monitor an astronaut's health while minimally interfering with crew activities. Commander Sergey Prokopyev worked on a 3D printer to demonstrate printing tools and parts in space reducing the crew's reliance on cargo missions for hardware.
Prokopyev also partnered with Roscosmos Flight Engineer Dmitri Petelin installing upgraded data cables in the Zvezda service module. Flight Engineer Andrey Fedyaev spent his day on ventilation and electronics maintenance.
---
Learn more about station activities by following the space station blog, @space_station and @ISS_Research on Twitter, as well as the ISS Facebook and ISS Instagram accounts.
Get weekly video highlights at: https://roundupreads.jsc.nasa.gov/videoupdate/
Get the latest from NASA delivered every week. Subscribe here: www.nasa.gov/subscribe