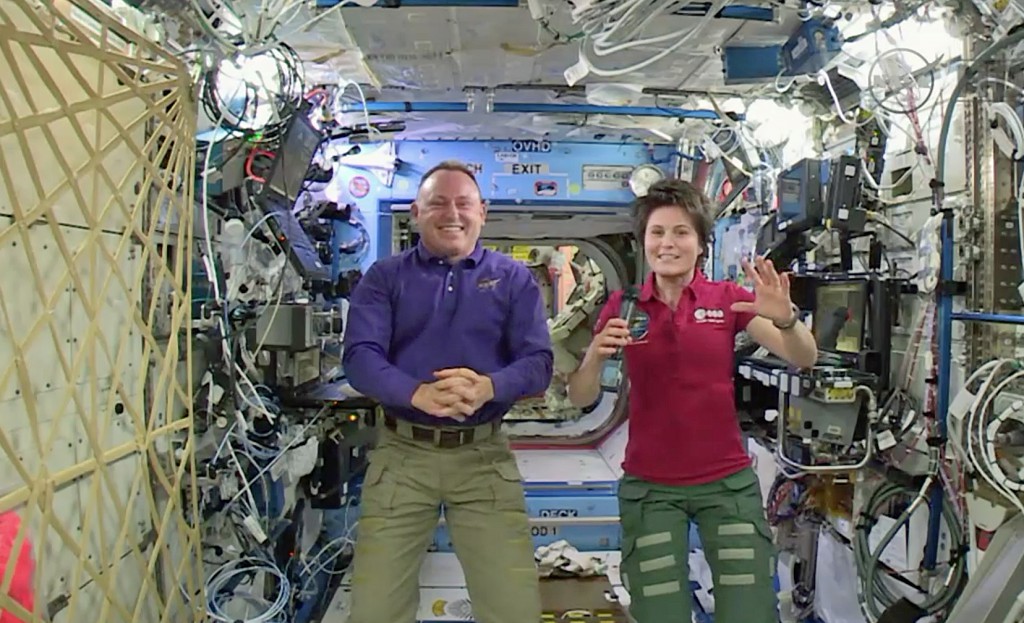 As the crew of the International Space Station prepares to ring in the new year with a fruit juice toast, NASA today released a pre-recorded  New Year's greeting from space for everyone on Earth.
> Watch the Happy New Year message
Expedition 42 Commander Barry "Butch" Wilmore  of NASA and Flight Engineer Samantha Cristoforetti of the European Space Agency shared their plans for a New Year's Eve celebration and some resolutions during an interview with CBS News and the BBC.
> Watch the Dec. 30 interview
The crew spent most of its day conducting a variety of experiments, ranging from human life sciences to physics and Earth observations, and threw in a good measure of routine maintenance on station systems.
Cristoforetti set up hardware for eye exams using ocular coherence tomography, which records a detailed 3-D image of the retina and the interior of the eyes, so doctors may look to better understand why some astronauts return to Earth with long-term vision problems. Wilmore then conducted the tests on both Cristoforetti and NASA Flight Engineer Terry Virts.
> Read more about the Ocular Health experiment
Wilmore also continued work setting up and conducting experiment runs with the European Space Agency Haptics-1 experiment, using a body-mounted force-feedback joystick and a tablet computer to help scientists learn how people in weightlessness might use such game-like hardware to someday control robots on another planet, moon or asteroid from an orbiting human spacecraft.
> Read more about the Haptics-1 experiment
Russian cosmonauts Elena Serova, Alexander Samoukutyaev and Anton Shkaplerov spent their day performing station life support system maintenance, testing a procedure for detecting air leaks on the station and conducting a Russian physics experiment on the dynamics of charged particles in space.