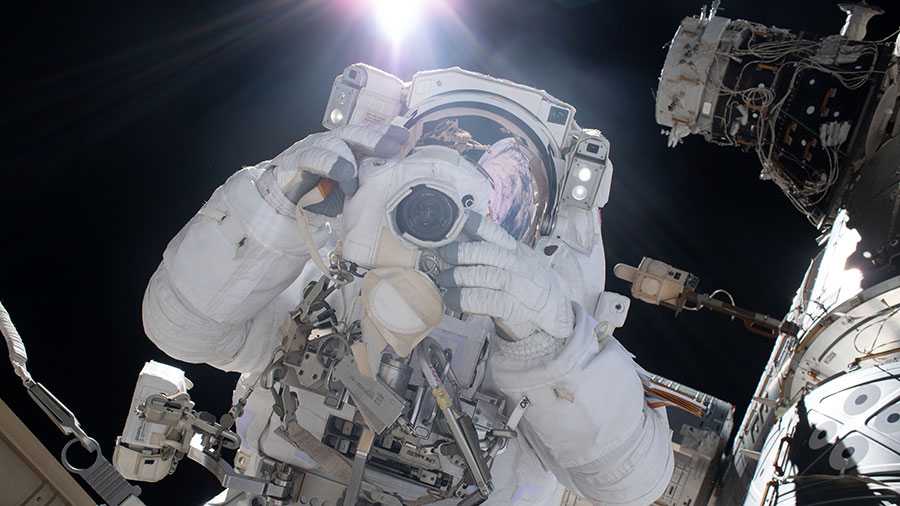 The Expedition 61 crew is heading into Thanksgiving with more blood and cell research to improve human health. There will also be a harvest on the U.S. holiday as spacewalk preparations continue.
Rodents living aboard the International Space Station are being observed this week with their blood and cell samples being collected and stowed in science freezers. Doctors are exploring how microgravity affects the cellular level systems of mice to gain insights into afflictions such as cancer and diabetes. Results may inform the development of advanced therapies for Earth-bound and space-caused ailments.
NASA astronauts Jessica Meir and Christina Koch are conducting the advanced biomedical research in Japan's Kibo laboratory module. Flight Engineer Andrew Morgan and Commander Luca Parmitano have been assisting the duo while also practicing repair techniques for the next spacewalk on Monday.
Morgan and Parmitano will set their U.S. spacesuits to battery power at 6:50 a.m. EST on Monday signifying the start of their spacewalk. They will use new tools and techniques never performed in space for the intricate task of replacing the Alpha Magnetic Spectrometer's thermal control system. NASA TV begins its live broadcast at 5:30 a.m.
The crew will be busy on Thanksgiving with more disease therapy studies and a space crop harvest as well. Koch and Meir will be harvesting Mizuna mustard greens and sharing the leaves with the crew for a taste test on Thursday. The rest of the crop will be packed in a lab freezer for later analysis.
Cosmonauts Alexander Skvortsov and Oleg Skripochka are readying the Progress 73 resupply ship for its undocking on Friday at 5:25 a.m. This will clear the Pirs docking compartment for the Progress 74 cargo craft to arrive Dec. 9 after its launch on Dec. 6. Skvortsov also investigated space cardiology today while Skripochka explored using acoustics to locate micrometeoroid impacts on the station.