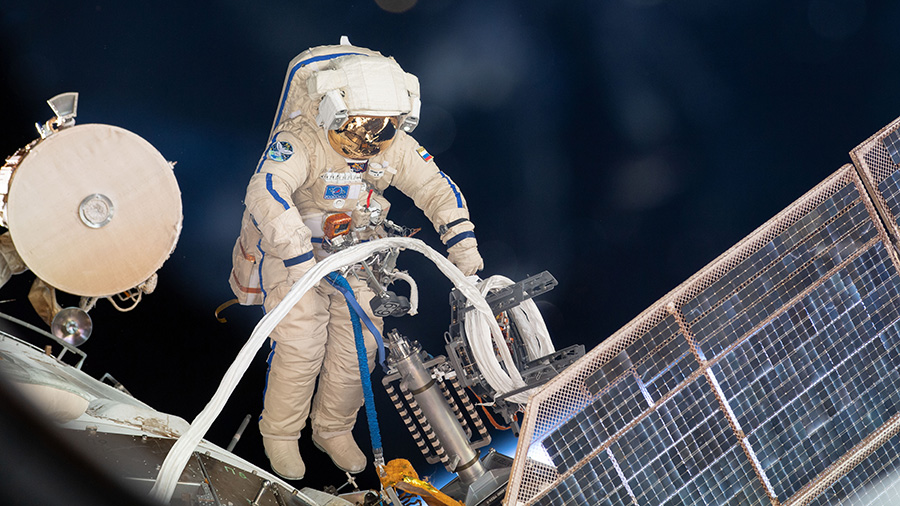 Two Expedition 68 crew members are making final preparations before exiting the International Space Station on Wednesday for the 12th spacewalk of the year. Meanwhile, the rest of the orbital residents kept up with advanced microgravity research operations.
Commander Sergey Prokopyev will join Flight Engineer Dmitri Petelin to begin a spacewalk at 9:20 p.m. EST on Wednesday. The duo will exit the Poisk module's airlock and transfer a radiator from the Rassvet module then connect it to the Nauka multipurpose laboratory module.
The Roscosmos cosmonauts configured their Orlan spacesuits and reviewed their timeline today to prepare for the seven-hour spacewalk. Flight Engineer Anna Kikina joined the pair for the spacewalk review. She will assist the spacewalkers on Wednesday as she operates the European robotic arm maneuvering the radiator from Rassvet to Nauka.
As the spacewalk preparations were ongoing, a variety of life science was under way aboard the orbital lab throughout Tuesday. NASA Flight Engineers Nicole Mann and Josh Cassada kicked off Tuesday collecting their blood samples for processing and analysis. Mann then moved on and took turns with NASA Flight Engineer Frank Rubio nourishing biological samples for a study that explores how bones heal in space.
Cassada also unloaded life support gear from inside the Cygnus space freighter and activated the hardware inside the Quest airlock. Rubio began his day connecting components inside the Combustion Integrated Rack, a flames and fuels research device, before aiding Cassada with the Cygnus cargo transfers.
Astronaut Koichi Wakata of the Japan Aerospace Exploration Agency (JAXA) spent Tuesday morning inside the Kibo laboratory module servicing the NanoRacks External Platform that places and exposes experiments to the vacuum of space outside the station. The veteran station resident wrapped up his day setting up the Liquid Behavior investigation to study fluids in microgravity possibly advancing the design of space systems such as life support, vehicles, and fuel tanks.
---
Learn more about station activities by following the space station blog, @space_station and @ISS_Research on Twitter, as well as the ISS Facebook and ISS Instagram accounts.
Get weekly video highlights at: http://jscfeatures.jsc.nasa.gov/videoupdate/
Get the latest from NASA delivered every week. Subscribe here: www.nasa.gov/subscribe