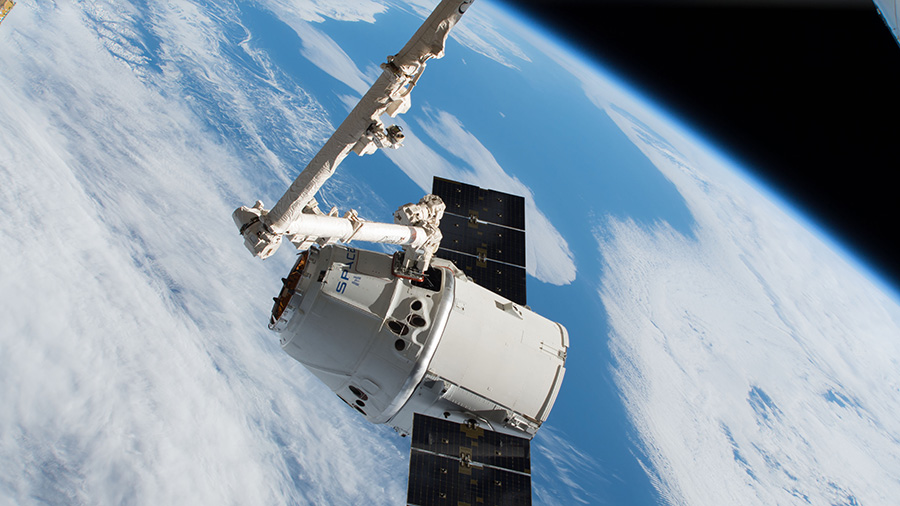 The International Space Station crew from the United States, Russia and Germany is going into the Fourth of July holiday unpacking new research gear from the SpaceX Dragon cargo craft. The six Expedition 56 crew members also conducted advanced space research and orbital lab maintenance today.
NASA astronaut Ricky Arnold opened the hatches to the SpaceX Dragon space freighter Tuesday morning beginning a month of cargo swaps. He and Commander Drew Feustel began retrieving and unpacking a variety of new space cargo. Next, Flight Engineers Serena Auñón-Chancellor and Alexander Gerst transferred critical science gear into the space station. The duo reviewed the experiment installation and research operations to help scientists learn how microgravity affects physics and biology.
The space residents, including cosmonauts Oleg Artemyev and Sergey Prokopyev, will spend the Fourth of July holiday with light duty. Gerst and Auñón-Chancellor will begin transferring mice delivered aboard Dragon into their new habitats aboard the station on Wednesday. The rodents will be observed to understand how microbes impact the gastrointestinal system in microgravity. Arnold and Feustel will be swapping frozen research samples from the Japanese Kibo lab module into the U.S. Destiny lab module.