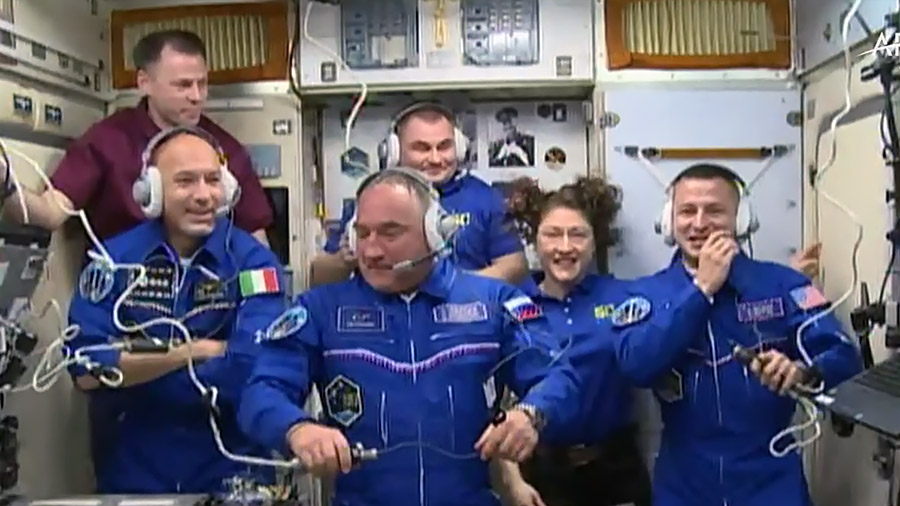 NASA astronaut Andrew Morgan, Luca Parmitano of ESA (European Space Agency) and Alexander Skvortsov of the Russian space agency Roscosmos joined Expedition 60 Commander Alexey Ovchinin of Roscosmos and NASA astronauts Nick Hague and Christina Koch aboard the International Space Station when the hatches between the Soyuz spacecraft and the orbiting laboratory officially opened at 9:04 p.m. EDT.
The arrival restores the station's crew complement to six. The Expedition 60 crew will spend more than six months conducting about 250 science investigations in fields such as biology, Earth science, human research, physical sciences, and technology development. Work on the unique microgravity laboratory advances scientific knowledge and demonstrates new technologies, making research breakthroughs that will enable long-duration human and robotic exploration of the Moon and Mars.
One of those key technology developments will be the arrival and installation of the second docking port for commercial crew spacecraft – SpaceX's Crew Dragon and Boeing's Starliner. International Docking Adapter-3 (IDA-3) is set to launch to the station on SpaceX Dragon's 18th commercial resupply services mission.
Some of the investigations they will conduct are sponsored by the U.S. National Laboratory on the space station, which Congress designated in 2005 to maximize its use for improving quality of life on Earth. Highlights of upcoming investigations the crew will facilitate on the orbiting laboratory in the unique microgravity environment include the growth of moss aboard the station, a platform to attempt successful printing of biological tissues and bio-mining in space.
Parmitano and Skvortsov are scheduled to remain aboard the station with Koch until February 2020, leaving Morgan on station for an extended stay. Hague and Ovchinin are set to return to Earth on Oct. 3.
For continued coverage and more information about the mission, visit: https://blogs-stage-old.nasawestprime.com/spacestation/. Get space station news, images and features via social media on Instagram at: @iss, ISS on Facebook, and on Twitter @Space_Station and @ISS_Research.