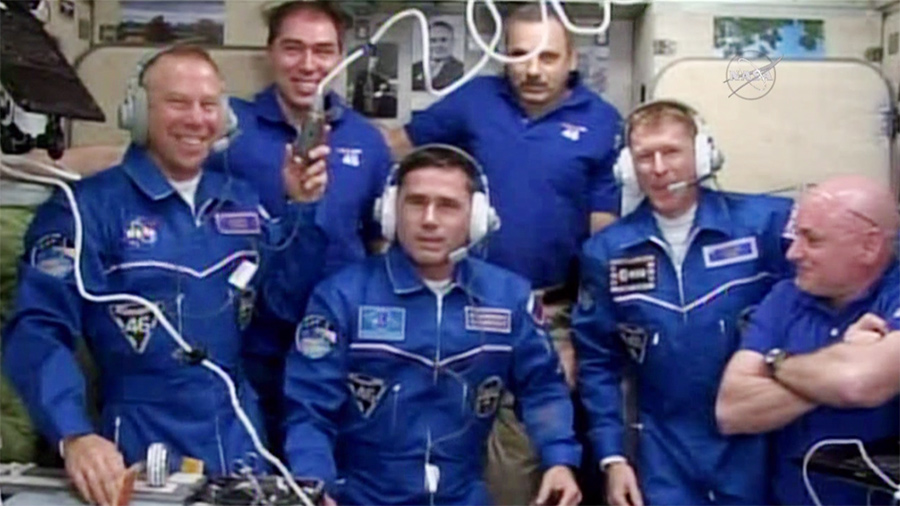 Tim Kopra of NASA, Tim Peake of ESA (European Space Agency), and Yuri Malenchenko of Roscosmos joined their Expedition 46 crewmates aboard the orbiting laboratory when the hatches between the Soyuz TMA-19M spacecraft and the International Space Station officially opened at 2:58 p.m. EST. Expedition 46 Commander Scott Kelly of NASA and Flight Engineers Mikhail Kornienko and Sergey Volkov of Roscosmos welcomed the trio aboard their orbiting home.
The crew members will install equipment and conduct experiments to help NASA's journey to Mars while making discoveries that can benefit all of humanity. Learn more about Expedition 46 crew members and their activities: https://www.nasa.gov/sites/default/files/atoms/files/np-2015-12-043-jsc-exp-46-summary.pdf
The incoming trio will spend about six-months aboard the station. Kelly and Kornienko are about nine months into their one-year mission, and are scheduled to return home in March 2016. These trips also enable the Roscomos to rotate a crew member and a Soyuz spacecraft. Each Soyuz remains in orbit about six months.
Follow the space station blog for crew activities at: https://blogs.nasa.gov/spacestation. To join the online conversation about the International Space Station, follow @Space_Station, and check out all the ways to connect with NASA at: https://www.nasa.gov/socialmedia.