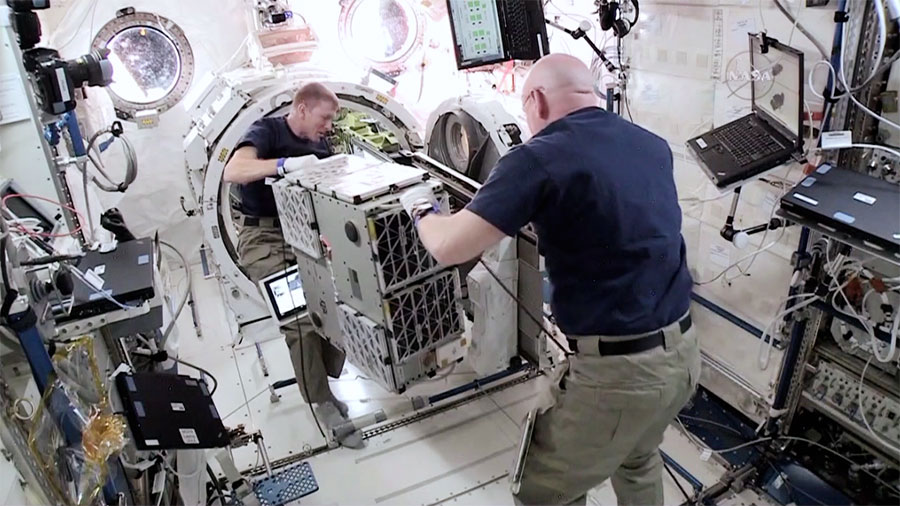 The six Expedition 46 crew members today prepared for the deployment of a pair of nanosatellites, loaded trash in the Cygnus cargo craft and reviewed timelines and procedures for a Feb. 3 spacewalk. The International Space Station will also raise its orbit ahead of March's crew swap and cargo delivery activities.
Commander Scott Kelly and British astronaut Tim Peake were inside Japan's Kibo laboratory loading a satellite carrier and its deployer mechanism in the lab module's airlock. After the Japanese robotic arm extracts the deployer from the airlock the Aggiesat4 and BEVO-2 nanosatellites will be deployed on Friday. The student-built nanosatellites will help further develop and refine autonomous navigation, rendezvous and docking software and procedures.
Peake then joined NASA astronaut Tim Kopra loading trash inside the Orbital ATK Cygnus supply ship. The private space freighter is due to leave the station Feb. 19 ending its stay at the Unity module. Next, Kopra moved on to a combustion experiment testing how well different samples resist burning in microgravity.
Cosmonauts Yuri Malenchenko and Sergey Volkov are a week away from the second spacewalk of 2016. The veteran spacewalkers reviewed the timeline and procedures they will use to install hardware and science experiments outside the station's Russian segment on Feb. 3 at 8:10 a.m. EST.