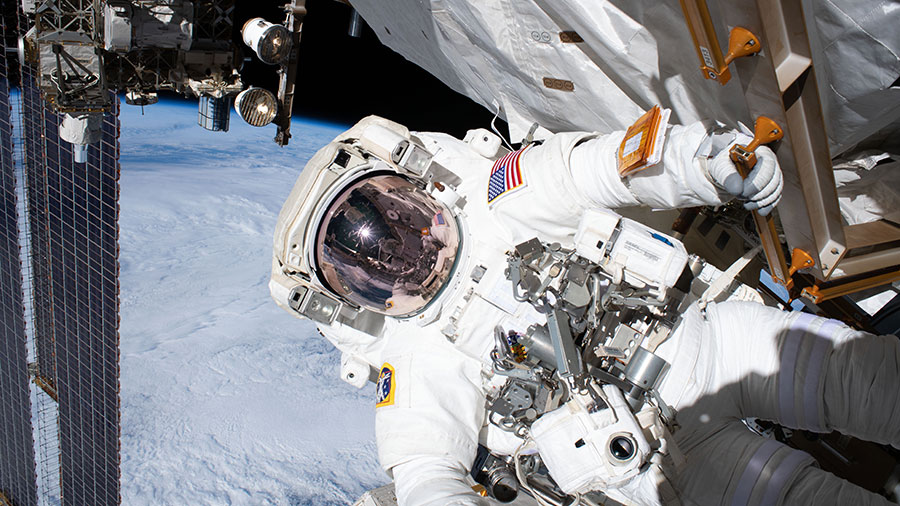 Thanksgiving week starts with the Expedition 61 crew exploring the stresses microgravity imposes on organisms at the cellular level. The International Space Station is also ramping up for cargo traffic and another spacewalk in December.
The astronauts in the U.S. segment of the orbiting lab focused their attention today on identifying the cellular changes caused by weightlessness. Observations may provide doctors with advanced therapeutic insights into diseases afflicting humans on Earth and ailments that affect astronauts in space.
Two more spacewalks are scheduled to service an astrophysics device, the Alpha Magnetic Spectrometer (AMS), searching for clues to the origin of the universe. Astronauts Andrew Morgan and Luca Parmitano will continue the complex work on Monday, Dec. 2 at 6:50 a.m. EST to replace the AMS thermal control system.
Russia's Progress 73 cargo craft will compete its 121-day mission attached to the Pirs docking compartment this Friday and undock for a fiery disposal above the south Pacific. It will be replaced when the Progress 74 resupply ship launches Dec. 6 and docks to Pirs on Dec. 8.
SpaceX is targeting Dec. 4 for the launch if its 19th commercial cargo mission to the space station. The Dragon space freighter would arrive on Dec. 7 delivering a variety of brand new research gear including Japan's Hyperspectral Imager Suite, or HISUI.