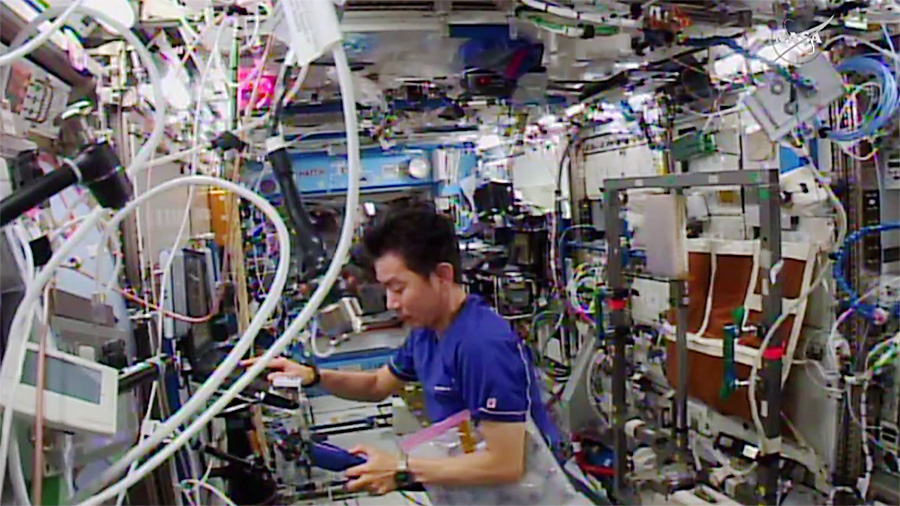 The hatches were opened today to the new space delivery from Russia's Progress resupply craft. The Expedition 45 crew also worked on orbital lab maintenance and on science to improve life on Earth and in space.
The Progress 61 space freighter arrived at the International Space Station Thursday evening delivering more than three tons of food, fuel and supplies six hours after its launch from Kazakhstan. The vehicle is docked to the Zvezda service module and ready for two months of cargo transfer activities. Japan's delivery space ship, the Kounotori HTV-5, finished its five-week stay at the space station Monday morning.
The six station residents were busy throughout the U.S. and Russian segments on a wide variety of activities. Commander Scott Kelly performed high-tech plumbing work as he replaced gear in the Water Processing Assembly. NASA astronaut Kjell Lindgren built a custom tool for lubricating the tip of the Canadarm2 robotic arm, which he and Kelly will do on a spacewalk at the end of October. Japanese astronaut Kimiya Yui installed a Cubesat deployer, and then worked on plant science.
Cosmonauts Sergey Volkov and Oleg Kononenko opened the Progress hatch and began checking inventory and unloading the cargo craft today. One-Year Crew member Mikhail Kornienko, Kelly's partner, checked the station's air quality and worked on Russian life support systems.